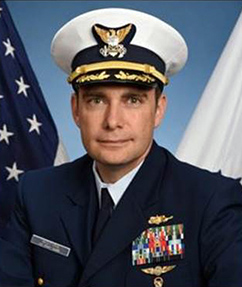 Commander William Woityra (CGA'99) has been selected for a 2017-2018 Fulbright Award to study in Finland. He will represent the U.S. and the Coast Guard as a cultural ambassador, working with the Finnish Transportation Agency to pursue a research study regarding the design, construction, operations, and management of icebreakers.
As a Fulbright scholar, CDR William Woityra will enhance mutual understanding between Americans and people in Finland. By studying state-of-the-art icebreakers designed, built, and operated in Finland, Woityra will contribute to design efforts underway for new Coast Guard icebreakers.
"This is a thrilling opportunity to pursue my passion for icebreaking as a Fulbright Scholar, and comes at a most opportune time, as the Coast Guard is hard at work designing future icebreaking platforms," said Woityra.
CDR Woityra's program of study will include time underway on Finnish icebreakers, learning and sharing icebreaking tactics, techniques, and procedures. He will sail on the recently commissioned multi-mission icebreaker Polaris. He will also spend time in Helsinki at the Finnish Transportation Agency studying the management of the international fleet of Baltic icebreakers from Finland, Sweden, and other nations. These management techniques are highly relevant to joint U.S.-Canadian icebreaking efforts on the Great Lakes. He is optimistic that many best practices can be shared to improve efficiency to the benefit of service users. While in Helsinki, he will also have the opportunity to engage with world renowned naval architects at Aker Arctic to further deepen his understanding of the latest achievements in icebreaker design and construction.
CDR Woityra's icebreaking experience eminently qualifies him for this honor. As a career icebreaker sailor, Woityra has served on four breakers. Most recently as Operations Officer, he led CGC Healy on five Arctic research missions, including her historic 2015 expedition to the North Pole, the first time an unaccompanied U.S. surface vessel had reached the top of the world. Woityra served for three years as Commanding Officer of CGC Neah Bay in Cleveland OH. While commanding Neah Bay, he established a cooperative program with Bowling Green State University that led to his crew to earning more than 60 college credits for participating in a lake sampling partnership. He previously served as Executive Officer on CGC Thunder Bay out of Rockland, ME and as Marine Science Officer on the heavy icebreaker CGC Polar Star out of Seattle, WA, where he completed one Antarctic and two Arctic deployments.
CDR Woityra's shore assignments have included three years at the International Ice Patrol, tracking North Atlantic icebergs over the Grand Banks of Newfoundland and two years as Coast Guard Attaché to Malta, where he advised the U.S. Ambassador and Armed Forces of Malta on maritime concerns and taught Search and Rescue Coordinator classes at the Maritime Safety and Security Training Centre.
CDR Woityra currently serves as the Ice Operations division chief in the Office of Waterways Management at Coast Guard Headquarters. He is the program manager for domestic and polar icebreaking policy. His duties further entail service as liaison officer to the National Science Foundation and Joint Task Force Support Forces Antarctica. In this role, Woityra spent January 2017 at McMurdo Station in Antarctica, supporting CGC Polar Star in their successful completion of Operation Deep Freeze 2017.