Mark Thomas
Women's Volleyball Head Coach & HPE Instructor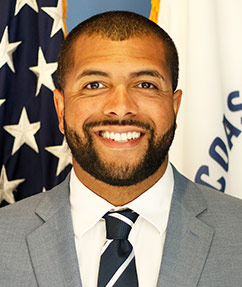 Thomas is no stranger to the Academy, having served as an assistant women's volleyball coach during the 2013 season. He comes to the Academy from AIC where he was hired in June as an assistant coach. The Coast Guard team he was an assistant coach for in 2013 finished 22-overall and 5-5 in the NEWMAC and advanced to the NEWMAC tournament semifinals.
He spent the last three seasons as the top assistant coach at George Mason University and prior to George Mason, he began the volleyball program at New England College in July 2016.
Thomas earned his undergraduate degree from Newbury College where he was a member of the men's volleyball program. During his career he was named the NECC Player of the Year (2010), earned two NECC first team honors, two North East Collegiate Volleyball Association (NECVA) New England first team honors, and All-NECVA second team honors.
He is the program's record holder in both career kills (1,778) and single-season kills (527).
Thomas' first head coaching position was at Newbury College, his alma mater, where he led both the men's and women's program. In his two seasons with the Nighthawks, he led the women's team to their first conference championship appearance since 2011. On the men's side, he led the team to their first conference semifinal appearance since 2011 and was named 2015 New England Collegiate Conference (NECC) Coach of the Year.
Thomas has also coached at the University of California Riverside, Springfield College and Prime Volleyball Club. He was a member of the Zenith Volleyball Club in Trinidad and Tobago during the 2012-2013 year.
He earned his Master's in Education in Athletic Counseling from Springfield College.
Additionally, Thomas has worked skills and/or team camps for the University of North Carolina, the University of New Hampshire, Connecticut College, Dearing Volleyball School, Prime Volleyball Camp and Gold Medal Squared Volleyball.
In June 2008, Thomas was selected as a member of the USA Athletes International team that competed at the Scottish Open Volleyball Tournament in Perth, Scotland.