Ray LaForte
Men's Lacrosse Head Coach
Quarterbacks Coach & HPE Instructor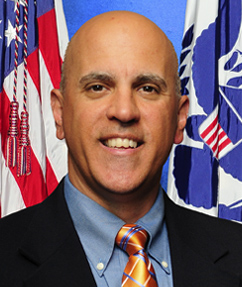 Ray just completed his seventh season as men's lacrosse coach at the Coast Guard Academy. Ray has overseen the rise of the lacrosse program from club status to NCAA Top 25 in the span of seven years. The 2018 NEILA/NEWMAC Coach of the Year has been coaching in collegiate athletics for 31 years. The 2019 season saw Coast Guard Lacrosse in the NEWMAC final for the second consecutive season and consecutive 14 win seasons have placed the program in the NIKE top 20 poll six times the past two years.
The program has had historic victories over National #1 Wesleyan in 2018, 10-9 in overtime. The first victory of any Coast Guard Academy program over a #1 ranked opponent. In 2017, CGA lacrosse served Springfield College its first-ever home league loss in NEWMAC competition with a 9 – 8 victory. The lacrosse program eclipsed the 50 mark in 2019 and stands at 52 – 30 in its first five seasons.
In the past three seasons, CGA Lacrosse has had four players honored as USILA All-Americans. Riley McNulty ('18, '19), Trey Johnson ('18), Anthony Wyler ('19), and Justin Edwards ('19).
Prior to Coast Guard Academy, La Forte worked as an assistant to Jeff Long at Ithaca. There Ithaca was in the national tournament twice in his five seasons. During Ray's time at Ithaca, his man down unit led the nation in man down percentage in 1997.
Ray has served on the Coast Guard Academy football coaching staff for the past 22 years. As Offensive Coordinator the past 15 seasons and Defensive Coordinator his first six years at the Academy. Under La Forte, the Bears have set 31 offensive records since 2005. Ray has a history of success developing quarterbacks in the CGA Spread/Option system. Every starting quarterback under Ray's tutelage has received regional/league honors in their career.
In 2006 and 2007, Christian George was named NEFC Player of the Year twice after being converted from receiver to quarterback. Niles Pierson ('06), Jon Resch ('09), Derek Victory ('16), and WR Justin Moffatt ('18) have all received the Boston Globe Golden Helmet Award for single-game performances.
In 2012, the Bears set a school record of 3,661 yards total offense. Twice in the past 16 seasons, CGA football has lad the nation in least sacks allowed per pass attempt and fumbles lost. In 2007, the Bears set the then NEFC record of 684 yards in a single game.
While at Ithaca for five seasons as Defensive Coordinator, La Forte coached four first team All-Americans. The Bombers were a national semifinalist in 1994 and ECAC champions in '96 and '98. Ray's punt return unit was the NCAA statistical leader in yards per return in 1998. Ray's 1998 defensive unit led the nation in tackles for loss. The 1994 unit caused an NCAA playoff record 10 turnovers in its quarterfinal victory over Plymouth State.
As a graduate assistant at East Carolina, Ray worked alongside Heisman Trophy finalist quarterback Jeff Blake. As East Carolina finished #9 nationally in the final AP poll. East Carolina was the nation's #3 passing team in 1994 and rattled off 11 consecutive victories.
Prior to La Forte's lacrosse duties at the Academy, he served as assistant track and field coach. He worked primarily with hurdlers, sprinters, and relays. Athletes under Ray's guidance won four NEWMAC Championships. Hurdler Adam Scalesse became CGA's most decorated track and field athlete garnering six All-America honors and finishing a National #2 in the 110 high hurdles.
La Forte was a member of both the football and baseball programs at Ithaca College during their 1988 National Championships. Ray holds a BS in Physical Education from Ithaca College and a MA ED in Secondary School Administration from East Carolina University.
At Coast Guard Academy, Ray's teaching duties have included Life Guard Training Instructor, Basic Swim, Health and Wellness, and Life Time Sport instruction.
Ray and his wife Michelle live in Waterford with their children Michael, Mason and Madison.