Susan Grant
Head Women's Soccer Coach & HPE Instructor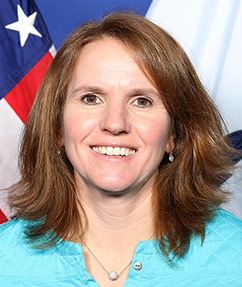 Susan Grant enters her 15th season as head coach of the women's soccer team at the United States Coast Guard Academy.
Grant, the longest tenured coach in program history, has a career record of 78-138-11, and became the first coach in program history to eclipse 50 wins in 2017.
In the 2019 season, Grant led the team to 6-3-1 record in NEWMAC play for the straight season and the Bears were the second seed in the conference tournament, the highest seeding in program history. She earned Coach of the Year honors for the first time in her career.
A 1995 graduate of the State University of New York (SUNY) at Cortland with a degree in Physical Education, has a wide variety of coaching experience, having coached women's soccer, lacrosse and field hockey at several levels.
Grant, who played both soccer and basketball for NCAA Division III power, SUNY Cortland, also earned her Master's degree in Health Education from Cortland in 1998.
Grant holds both a National Diploma and a state goalkeeping diploma from the National Soccer Coaches Association of America.
La Forte was a member of both the football and baseball programs at Ithaca College during their 1988 National Championships. Ray holds a BS in Physical Education from Ithaca College and a MA ED in Secondary School Administration from East Carolina University.
At Coast Guard Academy, Ray's teaching duties have included Life Guard Training Instructor, Basic Swim, Health and Wellness, and Life Time Sport instruction.
Ray and his wife Michelle live in Waterford with their children Michael, Mason and Madison.