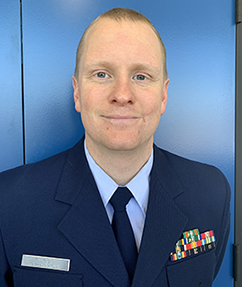 I came to the Coast Guard Academy to interact with cadets. For me, teaching was my way of opening up doors into their world. My interactions with them as an instructor allow me to create those personal relationships that can lead to long lasting influence and mentorship.
In my Physics classes, cadets can expect an engaging environment where we have fun while learning important concepts. I also firmly believe that education is much more about problem solving and analytical thinking than information memorization. So cadets should expect to be challenged to think and problem solve in new and interesting ways.
The Academy is unique to other institutions in that education is not a product marketed and sold to students. Here it is an asset that is invested into students to further their development into Coast Guard officers.