Dounia Elkhatib, Ph.D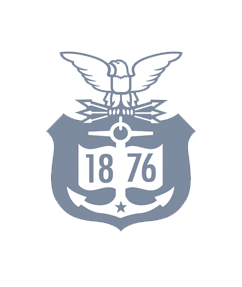 Dr. Elkhatib received her Ph.D. in Civil and Environmental Engineering from the University of Rhode Island and her M.S. in Environmental Engineering from the University of Cincinnati. She completed a postdoctoral fellowship at the Environmental Protection Agency in Narragansett, RI. Her research focused on studying microplastic contamination in water and marine environments, developing extraction methods to identify microplastics, and analyzing their polymer composition using spectroscopy. Research objectives included electrocoagulation and flocculation as removal solutions, to prevent adverse health impacts of microplastics. Before joining the U.S. Coast Guard Academy in August 2022, Dr. Elkhatib taught various civil and environmental engineering courses at Roger Williams University and Webb Institute. Her research interests include Water and Wastewater Technologies, Sustainable Engineering, and Microplastic contamination.
Education
Ph.D., University of Rhode Island, May 2020
M.S., University of Cincinnati, December 2010
B.S., Lebanese University, May 2007
Courses Taught
Environmental Engineering, Lecture
Mechanics of Materials, Lecture
Environmental Engineering Design Capstone Advisor
Selected Publications and Presentations
Elkhatib, Dounia, and Oyanedel-Craver, Vinka. "A Critical Review of Extraction and Identification Methods of Microplastics in Wastewater and Drinking Water." Environmental Science & Technology 54.12 (2020): 7037-049.
Elkhatib, D.; Carissimi, E.; Craver, V. (2020). "Removal of Microplastic at Wastewater Treatment Plants using Electrocoagulation Process." Elsevier B.V. Separation and purification technology, 2021, Vol.276, p.118877
Elkhatib, Dounia; Cashman, Michaela A.; Ho, Kay T.; Burgess, Robert M. "Assessment of Microplastics contamination in Estuary and Marine Sediments." SciCon2 2020 SETAC North America 41st Annual Meeting – November 2020.
Assessment of Filter Subsampling and Extrapolation for Quantifying Microplastics in Marine Sediments using Raman Spectroscopy. D El Khatib, TD Langknecht, MA Cashman, RM Burgess, KT Ho. North Atlantic Chapter 28th Annual Meeting and Short Course- June 2022
Carissimi, E.; Elkhatib, D.; Rodrigues, C. and Craver, V. (2019). Flocculation: Mechanisms and Applications for Wastewater Treatment. Chemistry Research and Applications.
Cashman, Michaela A; Langknecht, Troy; El-Khatib, Dounia; Burgess, Robert M; Boving, Thomas B; Robinson, Sandra; Ho, Kay T (2022). Quantification of microplastics in sediments from Narragansett Bay, Rhode Island, the USA using a novel isolation and extraction method. Marine pollution bulletin, 2022-01, Vol.174, p.113254-113254
Hannah De Frond, Win Cowger, Sebastian Primpke, Susanne Brander, Violet Renick, Suja Sukumaran, Amy Lusher, Bridget O'Donnell, Dounia Elkhatib, Steve Barnett, Florian Vollnhals, Wenjian Lao, Maria Navas-Moreno, Keith Rickabaugh, Eunah Lee, Gaurav Amarpuri, Silke Christiansen. "What determines the accuracy of chemical identification using microspectroscopy for microplastic pollution?" SETAC North America 42nd Annual Meeting- November 2021
Langknecht, T,W. Lao,C. Wong,D. El Khatib,S. Kotar,S. Robinson,R. Burgess and K. Ho. "A Multi-Laboratory Method Comparison for Quantifying Microplastics in Sediments: The Roles of Visual Microscopy and Spectroscopy". Chemosphere (2022).