Katie Heckman, Lieutenant, USCG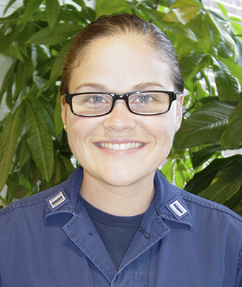 LT Katie Heckman (nee Schumacher) graduated from the Coast Guard Academy in 2012 with a Bachelor of Science in Civil Engineering. Her first tour was as Student Engineer and Auxiliary Division Officer on U.S. Coast Guard Cutter Midgett (WHEC-726) based out of Seattle, Washington. From 2014 until 2015, she attended the University of Illinois Urbana-Champaign and graduated with a Master of Science degree in Civil Engineering. From 2016 until 2019, she was stationed at the Civil Engineering Unit in Cleveland, working first in the Regional Execution Branch as a Construction Project Manager and second in the Tactical Operations Product Line.
She lives in New London with her husband, Kevin.
Education
M.S.C.E., University of Illinois, Champaign-Urbana, December 2015
B.S.C.E., U.S. Coast Guard Academy, May 2012
Courses Taught
Mechanics of Materials
Soil Mechanics Lab
Professional Memberships
American Society of Civil Engineers (ASCE), Member
Society of American Military Engineers (SAME), Member