Kimberly C. Young-McLear, Ph.D., PMP, Lieutenant Commander, USCG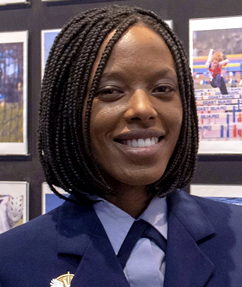 Lieutenant Young-McLear is currently serving on a fellowship at 
Department of Homeland Security Cybersecurity and Infrastructure Security Agency (DHS CISA)
. She has a Ph.D. in Systems Engineering from The George Washington University, a M.S. in Industrial Administration from Purdue University, and a B.S. in Industrial Engineering from Florida Agricultural & Mechanical University. She also is certified as a Project Management Professional (PMP). She credits being an alumni of a Historically Black College/University (HBCU) to her initial education for understanding not only engineering, but also systemic racism and how to foster authentically inclusive spaces where everybody can thrive. She entered the Coast Guard through the College Select Pre-Commissioning Initiative (CSPI). LCDR Young-McLear joined the faculty at USCGA in 2014 as a member of the Permanent Commissioned Teaching Staff. She leverages her understanding of people, information, technology, and complexity to identify system vulnerabilities and solutions. Key aspects of her Ph.D. research in leveraging social media for large-scale disaster response management was adopted by the Coast Guard for two historic hurricane seasons, resulting in her team's selection for the 2017 Captain Niels P. Thomsen Innovation Award for Cultural Change. Her current research focuses on complex cyber-physical systems within the maritime transportation system. Prior to accepting a position at the Coast Guard Academy, LCDR Young-McLear served as the Special Assistant to the Deputy Secretary of Homeland Security (DHS) where she provided direct support to a Deputy Cabinet Secretary for the development of DHS policy, mission planning, and execution for 240K employees. She has served in several Coast Guard communities, including Marine Safety and Naval/Industrial Engineering. As a Marine Inspector, she certified the safety and security of commercial vessels and mega cruise ships. As an Industrial Manager and Deputy Project Manager she led repair availability projects totaling more than $150M. Throughout her entire career, she has been an active leader in the community. She has championed for 
justice, diversity, equity, and inclusion
, which has resulted in numerous Coast Guard and DOD policy changes to enhancing workforce climate and dignity. In 2014, she spearheaded efforts off-duty to change Coast Guard grooming policies that adversely affected women of color, becoming the first military branch to model these inclusion standards a year ahead of the Department of Defense Secretary mandate. She previously served as Chair of the Leadership Diversity Advisory Council (LDAC) and member of the Inclusion Excellence Council (IEC) which promotes the tenets of civil/human rights, equal opportunity, and public service programs to approximately 1,600 military & civilian personnel.
Education
Ph.D., Systems Engineering, The George Washington University
M.S., Industrial Administration, Purdue University
B.S., Industrial Engineering, Florida A & M University
Courses Taught
Capstone Project Advisor
Cyber Risk Management
Cybernetics & Social Media
Introduction to Business
Operations and Project Management
Introduction to Computer Programming
Coast Guard History
Selected Publications and Presentations
K. Young-McLear, S. Sarkani & T. Mazzuchi (2015) "Large-Scale Disaster Response Management: Social Media and Homeland Security," Social Media and the Transformation in Society. IGI Global Publishing, 2015.
Young-McLear, G. Wyman, J. Benin, & Y. Young-McLear (2016) "A White Hat Approach to Identifying Gaps between Cybersecurity Education and Training: A Social Engineering Case Study," (AHFE Conference Proceedings.
K. Young-McLear, A. Zapalska, M. McCarty, & T. Kelley. (2017). "Information Literacy Skills Development: A Case Study of Management Major at the USCG Academy." The 2017 CLUTE International Conference on Education, New York, NY. July 30-August 3, 2017.
K. Young-McLear, A. Zapalska, M. McCarty, N. Zieser, T. Kelley, & M. Glinski (2018)."The Integration of Information Literacy Assignments within the Management Coursework as a Strategy for Development of Students Independent Learning and Lifelong Learning Skills" American Journal of Business Education, 2018.
K. Young-McLear, A. Zapalska, M. McCarty, J. White (2018). "Critical Thinking Skills Development with Assignments using the Bloom's Revised Taxonomy Model"; presentation at the Canada International Conference on Education (CICE-2018) at the University of Toronto Mississauga, Canada.
K. Young-McLear, M. Zapalska, M. McCarty, and J. White (2018). "Critical Thinking in Business Education," European Journal of Problems and Perspectives in Management.
K. Young-McLear, E. Twarog, R. Wiegleb, C. Verlinden, and C. Beckert (2018). "A Geospatial Comparison of 911 Calls, Social Media Posts, and Coast Guard Call Center Traffic During Hurricane Harvey," American Geophysical Union.
Professional Memberships
American Society of Engineering Education (ASEE)
International Council on Systems Engineering (INCOSE)
Project Management Institute (PMI)
National Society of Black Engineers (NSBE)