Collinson "Ned" Burgwyn, M.A., Lieutenant Commander, USCG
Government, Instructor
Department of Culture and Languages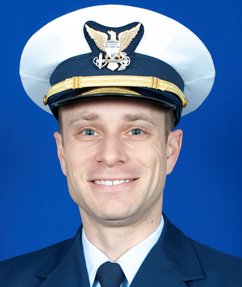 LCDR Ned Burgwyn is a 2008 graduate of Virginia Tech where he earned a B.A. in History and was a four-year member of the Corps of Cadets. He joined the Coast Guard shortly after graduation and earned his commission from Officer Candidate School in December 2008. LCDR Burgwyn has spent much of his career at sea and proudly wears the Permanent Cutterman Insignia. He has served as a Deck Watch Officer on CGC NORTHLAND out of Portsmouth, VA, Executive Officer of CGC MUSTANG out of Seward, AK, and Operations Officer of CGC DECISIVE out of Pascagoula, MS. His most rewarding tour was as Commanding Officer of CGC WASHINGTON on the island of Guam. Under LCDR Burgwyn's leadership the WASHINGTON performed numerous international patrols to assist the Republic of Palau and the Federated States of Micronesia in their efforts to combat Illegal, Unreported, and Unregulated fishing.
LCDR Burgwyn's operational experience in fisheries enforcement sparked an interest in environmental protection and he earned a Master of Environmental Management from Duke University. In addition to his sea time, LCDR Burgwyn served two tours at the First Coast Guard District in Boston, MA. The first as the Flag Aide to the First District Commander and the second as Command Center Chief. In this role he performed Search & Rescue Mission Coordinator duties and oversaw SAR operations in the northeast. Upon selection to the Coast Guard Academy Instructor program, LCDR Burgwyn earned a Master of Law & Diplomacy from the Fletcher School at Tufts University. He joined the CGA faculty in 2023.
A native of Williamsburg, VA, LCDR Burgwyn is married to Bryce Burgwyn, a 2010 CGA graduate and they have one daughter. A passionate saltwater angler and aspiring outdoor writer, he has been published in On The Water magazine.
Education
M.A., Law & Diplomacy, Tufts University, 2023
M.E.M, Environmental Management, Duke University, 2021
B.A., History, Virginia Tech, 2008
Courses Taught
American Social Movements
American Government
Honors and Awards
Coast Guard Commendation Medal (3)
Coast Guard Achievement Medal (2)
Permanent Cutterman Insignia Command Afloat Device