Fanny Patricia Granja-Falconi, Ph.D.
Government, Instructor
Department of Culture and Languages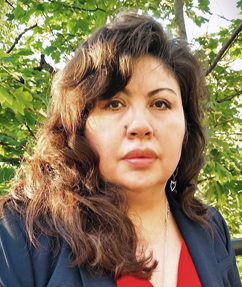 Fanny Patricia Granja-Falconi earned a Ph.D. and a MAT from Rutgers University, a MA from the University of Maryland, and a BA from the Pontifical Catholic University of Ecuador. Her dissertation was about the linguistic knowledge of preterite and imperfect in Hispanic Heritage students. She has taught a variety of Spanish language, culture, and society courses mainly at George Washington University, Texas A&M University and Rutgers University, applying blended-learning methodologies, and focusing on communicative and functional development in a multifaceted process where the meaningful involvement of all learners is essential. As language specialist, she has developed curricula for Heritage and L2 learners, coordinated multi-section courses, and collaborated with different study abroad programs, cultural activities and community service course components. Additionally, she has provided virtual Spanish language training on regional and cultural subjects to military service members, preparing them for the Oral Proficiency Interview (OPI) and Defense Language Proficiency Test (DLPT).
Education
Ph.D. Bilingualism and Second Language Acquisition (Spanish), Rutgers, the State University of New Jersey, New Brunswick, 2010
M.A. (Spanish Language and Literature), University of Maryland, College Park, 2004
M.A.T. Spanish, Rutgers, the State University of New Jersey, New Brunswick, 1996
B.A. Education (Social Studies: History and Geography), The Pontifical Catholic University of Ecuador, Quito, 1990
Courses Taught
Elementary Spanish I/II
Intermediate Spanish I/II
Advanced Spanish Language and Culture I/II
Spanish for Oral Communication
Spanish Lab. for Oral Proficiency
Advanced Spanish Grammar and Style
Spanish Conversations and Composition
Advanced Spanish Writing
Advanced Grammar and Composition
Advanced Grammar for Heritage Speakers
Spanish for Heritage Speakers
Spanish Native Speakers I/II
Bilingualism in the Spanish Speaking World
Contemporary Spain and Latin America
Spain and Latin America Culture
Hispanic Civilization
Spanish for Business Professions
Business Spanish II
Professional Affiliations
SIS-EES (International Association for the Study of Spanish in Society)
ALFAL (Asociación Lingüística y Filología de América Latina)
Phi Signa Iota (International Foreign Language Honor Society)
AATSP (American Association of Teachers of Spanish and Portuguese)
Interests
Language instruction to L1/L2 learners (cross-cultural communication
Discourse analysis
AP Spanish
Task-based/content-based pedagogy
Multiliteracies in practice
Integrated performance assessments
Learning by design
Remote/online learning, and virtual reality language training)
Hispanic linguistics (second/foreign language acquisition, bilingualism, and syntax/semantics linguistics processing)
Hispanic studies (variations of Spanish language/histories/literatures/cultures)