Peter Imbriale, M.B.A., M.S., Lieutenant Commander, USCG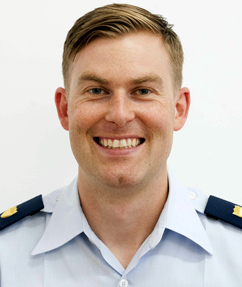 Lieutenant Commander (LCDR) Peter Imbriale graduated from the United States Coast Guard Academy in 2012 with a Bachelor of Science in Operations Research and Computer Analysis. His first assignment was a Deck Watch Officer on USCGC VIGILANT (WMEC-617) in Cape Canaveral, FL. In 2014, LCDR Imbriale transferred to USCGC RICHARD DIXON (WPC-1113) in San Juan, PR, as the ship's first Executive Officer and a member of the "plank owner" crew. In 2018, he completed graduate school education at the University of Connecticut and reported to the Academy as a rotating military instructor in the Management Department. In 2019, he was selected for the Academy's Permanent Commissioned Teaching Staff. LCDR Imbriale is currently a doctoral candidate at Bentley University where his research interests include humanitarian and disaster response logistics.
Education
M.B.A, University of Connecticut, 2018
M.S., Business Analytics and Project Management, 2018
B.S., Operations Research and Computer Analysis, United States Coast Guard Academy, 2012
Courses Taught
Macroeconomic Principles
Operations and Project Management
Public Management Consulting
Selected Publications and Presentations
P. Imbriale, A. Zapalska (2019). Assessment of Critical Thinking Skills in Principles of Macroeconomics Using the 21st Century Bloom's Taxonomy Model. European Journal of Education Studies, 6(1), 211-220.
Imbriale, P., Stavrulaki, E., & Livingston, J. (2021). "When Helping Hurts: Donor Behavior in Post-Disaster Material Convergence." Presented at Bentley University's 8th Annual Research Showcase, Waltham, MA.
P. Imbriale (2019). "Assessment of Critical Thinking in Macroeconomics Principles." Presented at the 30th Annual Teaching Economics Conference: Instruction and Classroom Based Research, Coraopolis, PA.