Reuben J.A. Macfarlan, Ph.D.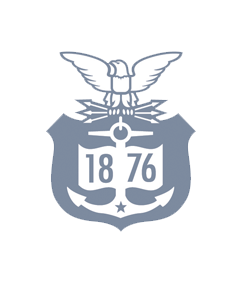 Dr. Macfarlan is a marine ecologist who is interested in studying invertebrates and the interaction of people and living aquatic environments. He has worked on the east and west coasts of the US and Caribbean for state agencies, as a federal contractor, and for three universities. His current projects at the CGA include working with cadets and collaborating with other faculty on improving anti-fouling strategies employed by the Coast Guard, investigating marine sponges as reservoirs of novel biocompounds, and studying an emergent and highly toxic invasive jellyfish. Dr. Macfarlan's teaching philosophy focuses on increasing the scientific literacy of cadets while fostering an inclusive environment in the classroom, field, and lab.
Education
Ph.D., Chemical Oceanography, University of Rhode Island, Narragansett, Rhode Island, 2004
M.E., Ocean Engineering, Stevens Institute of Technology, Hoboken, New Jersey, 1999
B.A., Chemistry, Franklin and Marshall College, Lancaster, Pennsylvania, 1996
Professional Experience
2003-04: State Survey Coordinator, US Department of Agriculture-APHIS
2004-05: At Sea Fisheries Observer II-New England, NOAA-National Marine Fisheries Service
2005-07: Aquatic Biologist, North Shore Sea Sampler. Massachusetts Division of Marine Fisheries
2007-10: Research Associate II-Marine Science Institute, PISCO Lab, University of California Santa Barbara
2011: Consultant ASA-RPS, NOAA/NRDA, Rhode Island, Deep Water Horizon Response
Teaching Experience
University of Rhode Island, 2011-2018
Salve Regina University, 2015-18
US Coast Guard Academy 2018-Present
Courses Taught at the Coast Guard Academy
Marine Biology, Lab and Lecture
Atmospheric and Marine Science
Courses Taught at the University of Rhode Island
Marine Biology Lab
Biology for Everyday Life
Advanced Animal Behavior
Animal Physiology
Special Problems in Marine Ecology
Marine Invertebrates of Southern New England
Courses Taught at the Salve Regina University
Biology for Humans
Humans and their Environment
Selected Publications and Presentations
Macfarlan, RJA, Forrester, GE, McLean Elizabeth. Isolating The Effect Of Artisanal Fishing On An Intertidal Gastropod In The Caribbean. Proceedings of the Gulf Caribbean Fisheries Institute. 2015.
GE Forrester, RJA Macfarlan, AJ Holevoet, S Merolla. Dislodgement force and shell morphology vary according to wave exposure in a tropical gastropod (Cittarium pica). Marine Biology Research 12 (9), 986-992
Gosnell JS, Macfarlan RJ, Shears NT, Caselle JE. A dynamic oceanographic front drives biogeographical structure in invertebrate settlement along Santa Cruz Island, California, USA. Marine Ecology Progress Series. 2014.
B Helmuth, F Choi, A Matzelle, JL Torossian, SL Morello, KAS Mislan, …Long-term, high frequency in situ measurements of intertidal mussel bed temperatures using biomimetic sensors. Scientific data 3, 16008.