Dan Brahan, M.S., P.E., Lieutenant Commander, USCG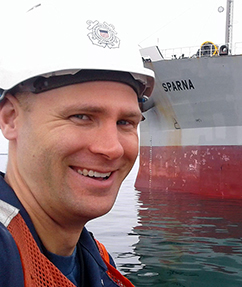 LCDR Dan Brahan joined the Coast Guard Academy staff in 2020. Previously, he served as the Chief of the Port State Control Branch at Sector Los Angeles – Long Beach from 2018 to 2020. In this role, he led a staff of 22 civilians, officers, and enlisted to complete over 900 safety and security exams of foreign vessels calling upon the ports of Los Angeles and Long Beach. Before fulfilling this role, he served as a vessel inspector at Sector LA – LB, inspecting U.S. small passenger vessels and foreign vessels from 2016 to 2018.
Prior to his assignment at Sector Los Angeles – Long Beach, LCDR Brahan served as a Staff Naval Architect at the Marine Safety Center from 2013-2016. In this assignment, he reviewed general arrangements, structures, stability, and structural fire protection plans and calculations for floating production platforms, offshore supply vessels, and barges. As a collateral duty, he served as a duty officer on the Salvage Engineering Response Team (SERT) working on over 50 salvage cases and deploying on three separate cases.
He served as a Student Engineer onboard USCGC TAMPA (WMEC 902) from 2008-2011, and is a 2008 graduate of Officer Candidate School.
Education
M.S.E., Naval Architecture and Marine Engineering – University of Michigan – 2013
M.S.E., Mechanical Engineering – University of Michigan – 2013
B.S., Mechanical Engineering with Minor in Materials Science and Engineering – University of California, Irvine – 2008
Courses Taught
Ships and Maritime Systems
Principles of Ship Design
Ship Design System Integration
Marine Casualty Response
Marine Safety Professional
4th Class Boat Design/Build Project
Honors and Awards
Coast Guard Commendation Medal
Coast Guard Achievement Medal
Coast Guard Commandant Letter of Commendation
Military Outstanding Volunteer Service Medal
Federal Executive Board Team Accomplishment Award
DHS Secretary's Exceptional Service (Gold Medal) Team Award
Publications
"A Digital Twin for the Formulation of Ice Accretion on Vessels," T. DeNucci, D. Brahan, Computer Applications and Information Technology in the Maritime Industries (COMPIT) 2022, June 2022
"Marine Icing on a Commercial Crabbing Vessel in the Gulf of Alaska: Accident Study," T. DeNucci, D. Brahan, B. Pearce, N. Johnson, R. Kirvelevicius, W. Anderson, C. Madaus, American Society of Engineering Educators Annual Conference 2022, June 2022
Professional Certifications
Licensed Professional Engineer in the Commonwealth of Virginia since 2014