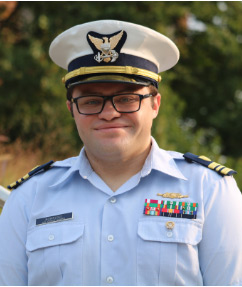 Thanks for your interest in the Coast Guard and the Academy. I really appreciate your interest in serving others in an organization with an exciting, fulfilling combination of humanitarian and military missions.
At the Academy, I had incredible opportunities to broaden my horizons, through playing football, assignment as a cadet Company Commander, spending cadet summers aboard Coast Guard Cutters, and traveling to San Remo, Italy for a military academy International Law competition. My four years at USCGA were both challenging and rewarding.
Upon graduation, I reported to CGC MUNRO (now the DOUGLAS MUNRO) in Kodiak, Alaska as a Deck Watch Officer and the Assistant Navigator. It was my responsibility to position this 378-foot ship to enforce fisheries regulations, launch helicopters, conduct search and rescue, and ensure safety of life at sea. I qualified as a Boarding Officer, leading boarding teams on Alaskan fishing vessels. We even conducted a patrol that took us as far away as Japan, where we enforced international fisheries treaties on the high seas and worked with international treaty partners to stop vessels fishing illegally.
After MUNRO I stayed at sea, with Department Head tours aboard CGC MORGENTHAU, JARVIS, and the new National Security Cutter, CGC WAESCHE, all out of Alameda, CA. I got to work with our partners in Central and South America to stop drug smuggling in the Pacific, I trained a group of officers from the Bangladesh Navy, and I served as Navigator for a multi-ship task force at the world's largest international naval exercise in Hawaii.
After a break from sea duty at Coast Guard Headquarters, I was ecstatic to return to sea, this time in command of the 110-foot patrol boat, CGC MUSTANG in Seward, AK. I was back to doing what I loved most – saving lives and safeguarding critical resources against the backdrop of Alaska's natural beauty. Those two years were the best of my Coast Guard career so far.
I'm thankful for how the Coast Guard has impacted my life and how I've been able to have a positive impact on others through my service. I would not have had those opportunities without the foundation I built at the Academy. I look forward to sharing those opportunities with you!