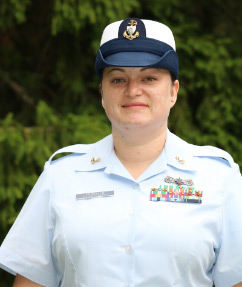 I was born and raised in Jonesboro, GA and am one of six kids. Two months after graduating from high school, I joined the Coast Guard as a member of the enlisted workforce. It was a great decision because here I am 18 years later!
My job as a Yeoman has allowed me the flexibility to achieve a variety of goals throughout my career. In May 2007 I reported to the Gulf Strike Team in Mobile, AL which has been thus far my favorite tour. I qualified as an Emergency Medical Technician and a Hazardous Materials Response Technician and was one of the first few Coast Guard members deployed in the wake of the Deep Water Horizon incident.
In June 2011, I transferred to Virginia where I served for eight years and was stationed at the Maritime Security Response Team and Base Elizabeth City, NC. While at the Maritime Security Response Team in Chesapeake, VA, I was able to maintain my EMT qualifications and even advanced my medical skill as a tactical medic. While there I also was able to attain something that very few Yeoman have, the boat forces insignia.
I reported to the Coast Guard Academy in June 2019 and immediately fell in love with the mission and the campus. I look forward to working with the future leaders of the Coast Guard and the opportunity to guide and mentor you through the Scholars program.