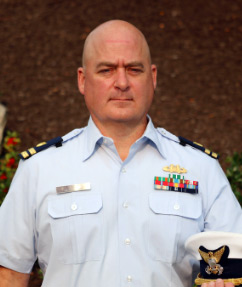 After commissioning as a Coast Guard officer, I reported to Port Security Unit 301 on Cape Cod, Massachusetts. PSU 301 is a deployable unit whose mission is defense readiness. I completed my Ensign tour as the Shore Side Division Officer, running the tactical training programs for 50 members of the Division. Training included weapons, tactical troop movements, High Mobility Multipurpose Wheeled Vehicle driving, and planning war games.
During my time at PSU 301 I was temporarily reassigned to Sector Long Island Sound to run a security information program to protect against water side security threats. After this assignment, I returned to PSU 301 and was promoted to Training Officer for the entire unit, running both shore side and water side training programs.
My career next led to the Academy, first to the Officer Candidate School, then to the Cadet Training Division. As a member of the Commandant of Cadets staff, I was responsible to carry out the first and third class cadet summer training programs.
In my spare time I teach scuba diving, and I have in the past worked as police officer. I believe that my background in in training, defense readiness and law enforcement have prepared me well to help the future military officers of our foreign allies and partners. Please email me to begin a conversation about the opportunities at the U.S. Coast Guard Academy. I look forward to working with you.