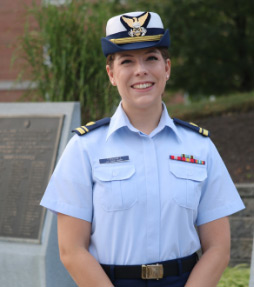 Hello! My name is Emily Torsney and I am an Admission Officer for the United States Coast Guard Academy. I am assigned to the New England region, covering NY north to ME and VT. Thank you for your interest in learning more about the opportunities available to you at the USCGA!
I am from the south shore of Massachusetts and attended the University of Vermont, graduating in 2018. Upon graduation I commissioned in the Coast Guard through Officer Candidate School. My first assignment was as a Deck Watch Officer onboard USCGC OAK, a 225′ seagoing buoy tender responsible for Aids to Navigation along the New England coastline.
Growing up I remember watching Coast Guard helicopters flying over, response boats cruising between the nearby harbors, and the cutters patrolling offshore. Little did I know that only a few years later I would complete my first tour on a cutter in that same area!
I have gained valuable experience during my time in the Coast Guard and look forward to helping you navigate this time as you determine your next big step. Please do not hesitate to reach out should you have any questions about the Academy or the Coast Guard.