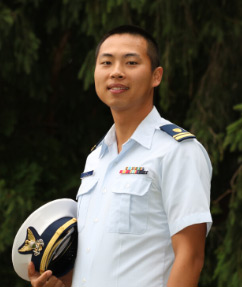 Hi! My name is Yuexing Hu (pronounced "Yu-eh-shing"). You can also call me John, that's probably easier to pronounce! I appreciate your interest in serving and joining an organization that focuses primarily on humanitarian missions.
I graduated the Coast Guard Academy in 2018 with a B.S. in Civil Engineering. While at the Academy I was part of the varsity tennis team and involved myself in OCF (Officer Christian Fellowship). I took invaluable experiences away from the cadet summers. Third class summer I spent a few weeks aboard USCGC Tampa doing drug/migrant interdiction on the coast of Florida and experiencing firsthand the challenges of defending the homeland. My second class summer consisted of training the new incoming cadets as well as sailing around the New England area during the Coastal Sail Training Program. The cadet summers provided amazing learning opportunities that ultimately helped prepare me to be a successful Junior Officer.
Upon graduation I reported to USCGC MACKINAW, the Great Lakes Ice breaker situated in Cheboygan, MI. While onboard my primary duty was being a Deck Watch Officer, ensuring safe and proper management of the bridge team to conduct dangerous Ice Breaking and ATON Operations. In addition to my primary duty as DWO, I was assigned multiple collateral duties including Morale, Communications, Education Services, Training, Commercial Schools, and Admin. These collaterals as well as watch standing during operational periods exposed me to many different personalities and gave me the opportunity to work with people from all different backgrounds.
I'm thankful for how the Coast Guard has impacted my life thus far, and I hope to continue to make a positive impact wherever life takes me. I look forward to advising you on your college search and the Coast Guard Academy.