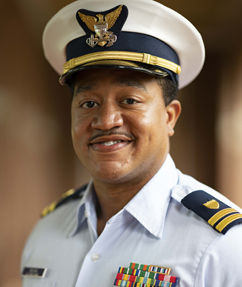 Hello! My name is Jacob Brown, and I am ecstatic to be your Coast Guard Academy Admission Officer in the southeastern portion of the United States, Puerto Rico and the eastern territories.
Born and raised in Virginia Beach, Virginia, I took the oath of service as a Coast Guard Academy swab on June 30, 2014. I am now a proud graduate of the Class of 2018 and could not be happier with my career decision.
Before my present assignment, I was stationed on CGC LEGARE, a 270-foot Medium Endurance cutter out of Portsmouth, VA where I served as the Combat Information Center Officer and the First Lieutenant. Onboard LEGARE I had the unique opportunity to conduct a wide variety of the Coast Guard's missions ranging from living marine resources enforcement and drug interdiction to search & rescue and marine safety.
I look forward to working with you and your family to decide how the Coast Guard Academy fits into your future. I hope to speak with you soon!