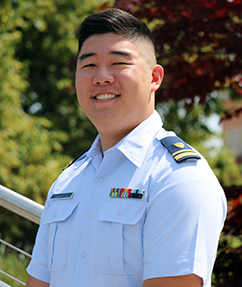 Hello! My name is Tony Lee, and I have been assigned as the Coast Guard Academy Admissions Officer for the Midwest region as well as for U.S. citizens living abroad! I look forward to working with you and assisting you in your future Coast Guard aspirations.
I was born and raised in Southern California, spending most of my childhood in Orange County. I was accepted into the Coast Guard Academy Scholars (CGAS) program out of high school, attended Georgia Military College for a year, and was accepted into the class of 2019 after my one year at prep school. My time at the Academy was the most challenging yet rewarding experience I've ever had, and having once been on every probationary status that exists at the Academy, I am a true proponent of "If I could do it, so can you." My first assignment out of the Academy was to the 270' Medium Endurance Cutter, USCGC CAMPBELL. We conducted fisheries patrols, counter-drug patrols, and even a patrol to the Arctic Circle—a feat that had previously only been accomplished by icebreakers and was unheard of for white-hull Coast Guard cutters. Within the span of a couple months, I went from shivering in an Arctic summer in Greenland to sweating in a tropical winter down in Central America, where we interdicted nearly 6 tons of Colombian cocaine.
I have a passion for working with and mentoring people. I could not be more excited to work with all of you! Please feel free to reach out by phone or email if you'd like to discuss the Academy or the Coast Guard.