LT Valentina Giraldo-Torres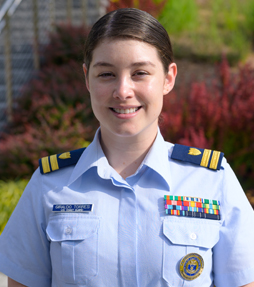 Hola! My name is Valentina Giraldo-Torres, and I am the Northeast Regional Admissions Officer for the U.S. Coast Guard Academy. I look forward to working with you to see if the Coast Guard is the place for you!
Originally from Cali, Colombia, I immigrated to the United States when I was five. I grew up with a deep respect for the United States in providing my family & I so many blessings, and thus began my desire to serve. My family came from humble beginnings, so I wanted a future that would grant me personal and financial independence. Comparing military branches, I was drawn to the Coast Guard's camaraderie and support within the small-knit environment. Looking back on my college application journey, I am so grateful I chose CGA over the other service academies. My time at the Academy was incredible; I was provided with so many opportunities to travel and study, all while making friendships that will last a lifetime. The highlight of my travels was my 1/c (senior) summer experience in which I traveled aboard ARM CUAUHTEMOC, the Mexican Navy's Tall Ship, around the entire continent of South America with military officers from every Spanish-speaking country!
After graduation, I reported to the CGC HERIBERTO HERNANDEZ, a 154' patrol boat stationed in the beautiful San Juan, Puerto Rico. To say my time there was busy would be a serious understatement. During my two years onboard, we interdicted 2,878kg of illicit narcotics and repatriated over 486 migrants to the Dominican Republic. I started out as the First Lieutenant, in charge of our Deck force and cutter's material condition, and ended my tour as the Executive Officer, or second-in-command, of the 26-person crew. Afterwards, I decided to come back to New London, CT and serve as the Training Officer and Support Department Head on CGC BARQUE EAGLE, "America's Tall Ship." EAGLE is the U.S. Military's only tall ship and the CG is fortunate enough to have her. EAGLE is primarily used as a training vessel, where cadets can learn seamanship and navigation skills while traveling the seven seas. I particularly enjoyed working with cadets and future officers, so I decided to serve in admissions. Additionally, I am extremely passionate about Diversity, Equity and Inclusion and am honored to serve as the Compañeros Council Advisor (CGA's Latin Affinity Council), Boxing Coach, and Club Soccer Coach.
If you desire a close-knit atmosphere where support is around every corner, you will find it at the Coast Guard Academy. Every person on campus has a personal interest in getting each cadet to the finish line and commission as a Coast Guard Officer. Please contact me to discuss your best step forward in applying to CGA!