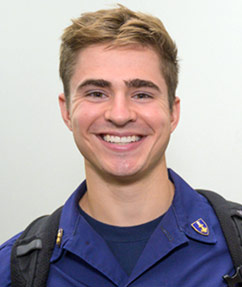 I always loved building forts, digging in the dirt, designing ropes courses in the trees and creating structures as a kid. I hoped to be an engineer. My dad always encouraged me to study some type of engineering, so I eventually chose civil engineering at the Academy.
I found that the instructors at the Academy are excellent and ALWAYS willing to help. They are patient and willing to give extra time for projects because they want us to learn the information. Even in the classroom, the teachers are less worried about the agenda and more interested in making sure everyone understands the content, even if it means we get behind.
As a cadet, I learned the importance of getting ahead in classes so that I can still enjoy time relaxing with my friends while also not staying up absurdly late the night before projects are due because I waited until the last minute. I really hope to go to flight school next year and would love to get a masters' degree in some type of engineering to work as an aviation engineer.