Major: Electrical Engineering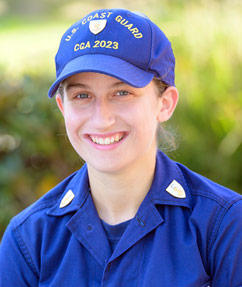 When I built my first computer during my freshman year of high school, I became interested in learning more about how the components worked, which led me to discover the field of electrical engineering (EE). I was searching for small engineering schools and came across the Coast Guard Academy online. I really liked the idea of going to a college that didn't use big lecture halls and had small class sizes. I was then attracted to the Coast Guard specifically over the other military academies because of the humanitarian mission set.
Although my parents were both Army officers, they were hesitant at first over my desire to go into the military, but they were excited by my interest in a STEM major and enrolled me in the STEM program at my high school. I think they came around on the Coast Guard Academy when I did Cadet for a Day my senior year of high school and they got to experience it themselves. The best support they gave me was just expressing their confidence in my ability to go to a challenging school and study a challenging major. I had my doubts, but they assured me I was making the right decision.
My EE class has quite a few women and we do tend to stick together. However, I've still had a few classes where I'm the only girl. It can feel a little odd at first, but it's never really impacted anything. I've never felt like I've been treated any different than my male classmates. My advice is to just stick to your guns and trust your brain.