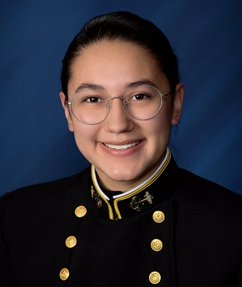 I knew very early on that I wanted to be an engineer but was going back and forth between what discipline of engineering I wanted to be in. I was mainly between electrical engineering and mechanical engineering, but ultimately I did some research on what each one was and the classes you are expected to take made me decide on mechanical engineering.
The Mechanical Engineering major is one that you cannot get through alone. There are many nights where my classmates and I are up, working together in a group of anywhere from three to 15 cadets trying to figure out a homework assignment. This really allowed us to have a bigger sense of comradery and has enhanced our abilities to work together as a team in the face of adversity. For this reason, many mechanical engineers hold various leadership positions at the Academy.
My goal after graduating from the Academy is to hopefully be on an ice breaker for my first tour. Afterwards I plan to apply (and get selected!) for flight school to want to eventually be flying the C-130.
If you're considering applying to the Academy, ensure you know your "why." By that I mean you must know what motivates you. The Academy will test you academically, physically, and militarily to the point where you may want to quit but so long as you are able to rely on your "why" you can overcome anything.