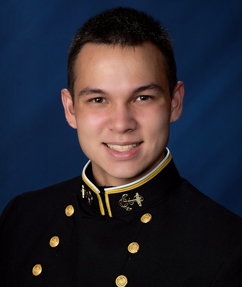 I sought adventure – that's why I applied to the Coast Guard Academy. I wanted to travel, meet amazing and interesting people, and truly experience and explore life. In high school, I always felt like there was more to life than doing homework and thinking about getting a 9-5 job to pay the bills. That's when a family friend said I should apply to AIM. After AIM, I knew immediately that the Academy could give me what I was looking for.
The Academy is a place that is very good at helping people grow up in a natural way. What I mean by that is we all come in as high schoolers and somehow at the end of four years most of us feel ready to take on being an Ensign in the Coast Guard. The Academy encourages you to learn how to take on more and more responsibilities every year and feel more prepared for the next step each time. You have your own personal upperclass cadet/mentor charged with helping you succeed. It is incredibly special to see those you trained on the basics of the Coast Guard become high performing leaders.
I see myself as an engineer in the Coast Guard, participating in the ever-going process of trying to keep the fleet operational as well as helping bring online the newest cutters that are being built right now. But more than that I see myself traveling throughout some of the many beautiful Coast Guard locations from Hawaii to Alaska to Maine and even to other countries. You wouldn't expect the Coast Guard to take you across the oceans, but it does, more often than you might expect.