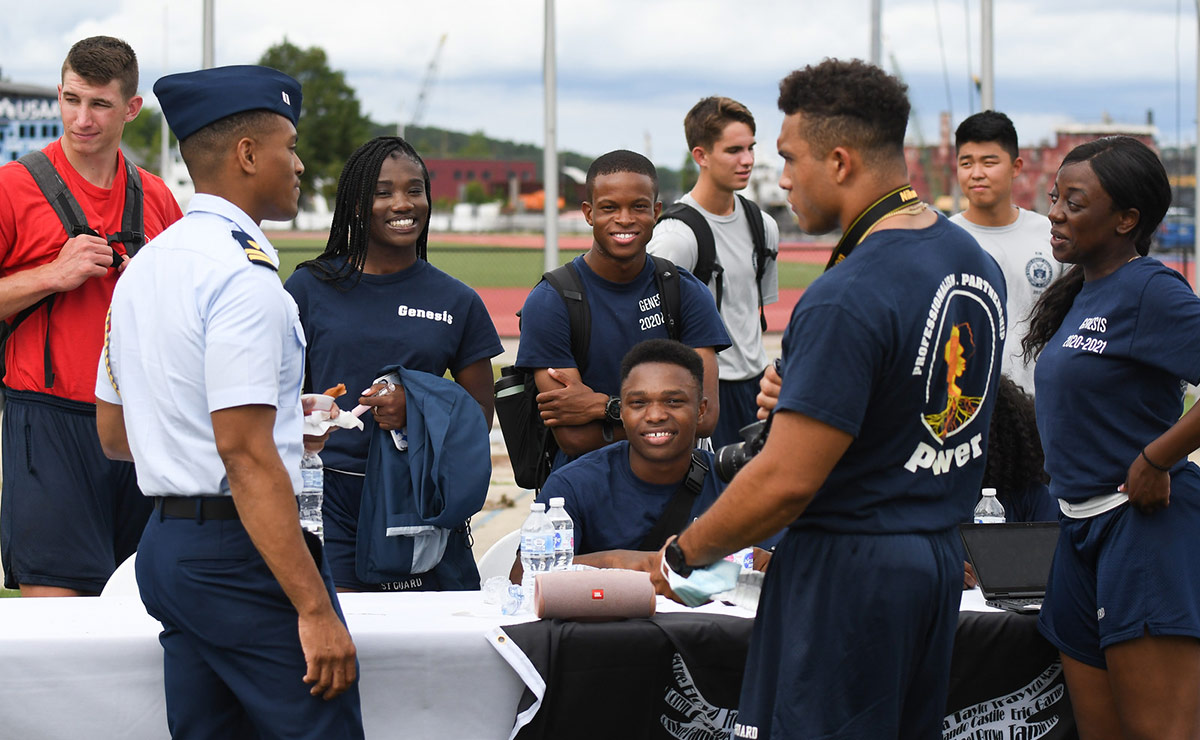 The Genesis Invitational is a fall program for prospective cadets and their parents who want an in-depth look at the cadet experience and serving in the fleet. This program leverages recent graduates and Academy Minority Outreach Team (AMOT) mentors who are invested in sharing their personal experiences with you and help you navigate this exciting journey. We know you have options. Genesis is designed to help you dive deeper into the Academy, and build confidence in your college decision. Please consider attending if you:
Are a student of color or first in your family to attend college
Are a high school junior, senior, or graduate
Have a GPA of at least 3.0
Are physically fit and in good health
Genesis is named after the Academy's oldest club, founded in 1973, now known as the Genesis Council. The Genesis Council is one of eight vibrant Councils active in the Corps of Cadets.
Genesis is held on campus starting on Monday at 08:45 AM ET and ending on Tuesday at 12:00 PM. Sessions are highly interactive and include time to experience the local area. Plan on plenty of engagement with cadets and officers alike. If you are ready to apply, be sure to take advantage of time to participate in the Physical Fitness Exam – an application requirement.
The program enlightened my path as a Hispanic American…. To add to my excitement, the fact that I saw so many young women as Cadets, really motivated me. I told my parents this is opportunity that I cannot pass up!
An eye-opening experience, and I loved every minute of it...Everybody I came across was quick with a smile, and every single question I had about the academy going in was answered by the time I left.
All the cadets I saw looked like they were enjoying their time at CGA possibly from the bond they've all created together through Swab Summer.
An awful lot of information was presented and the opportunity to ask questions of people with different experiences and perspectives was brilliant.
Event Coordinator
Office: (860) 701-6177
Katy.A.Robbins@uscga.edu