Anas Al-Faraj
Jordan
Major: Mechanical Engineering
Sport: Club Soccer
Clubs: Asian Pacific American Council, International Council, Genesis, Campañeros Council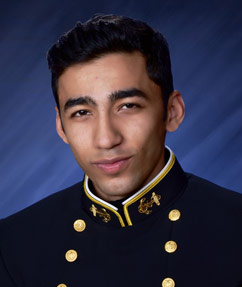 My family was worried about me being away from home; however, they supported me throughout the whole Academy admission process. I knew early on that I wanted to study abroad at a service academy and the Coast Guard was the perfect fit.
Coming into the Academy I was mindful of the passive stereotype that international cadets can sometimes adopt. This mindset assumes that international cadets perceive graduation as their only goal, implying that they will miss out on all the other opportunities available. My best advice for any international cadet is to get involved and gain as much knowledge as possible!
I decided to be a mechanical engineer because I felt it would be the best fit for me. As I learn more in my major, I realize there is so much more to learn about how things work, which really fascinates me. Also, being a mechanical engineer builds a good foundation on how the different systems and machines work on a boat, which is applicable to my job after graduation.
After graduation, I will be joining the Jordanian navy. We share a small part of the Red Sea right at the southernmost point of Jordan with Egypt and Palestine where we have few small boat stations. I am not sure yet what my job will be like but, I think I will be serving as an Engineering Officer, where my job will be mainly overseeing and maintaining the overall readiness of the boats at my station.