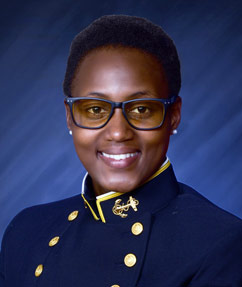 Growing up, I wanted to be either a doctor or a software engineer. When I was applying to the Academy, I noticed neither major was offered. I honestly did not know what I was going to study. During the Respect and Inclusion Summer Experience program, I attended the academic major presentation and Cyber Systems was announced as the newest major. It was my first time hearing about cyber but throughout the presentation, I realized it was something I would be interested in. I immediately switched to Cyber Systems.
After choosing my major, my biggest challenge was becoming a whole new person and being the leader that the Academy was training me to be. I was in a military academy before and the process of embracing the differences in training and leadership styles was mentally challenging and so hard to take in. But with time, I got so much support that helped me to embrace the differences and learn from it.
My ultimate goal after graduation is to continue learning and growing in all aspects of life. I want to use the knowledge I am acquiring at the Academy to defend and protect Rwanda's national infrastructure from cyber attacks. As time goes by, Rwanda is advancing more in technology, and the more technology, the more cyber threats. So, after graduation, I want to bring more cybersecurity awareness among Rwandese by teaching them basic cyber hygiene.
If you want to be a great leader, this is the best place to be. It is so challenging both mentally and physically, but you will have so many people who are willing to support you to get through everything. Take all the opportunities that are going to come your way, whether they are trainings, competitions, leadership positions, or volunteering. This will help you to learn so many things and help you grow in all aspects of life as a cadet.