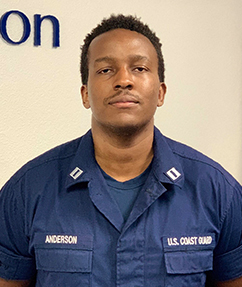 I grew up an "Army brat" and call Goose Creek, SC home. During my time in high school, I was unsure of what I wanted to be in the future. I did not know of the Coast Guard until my junior year. Looking back and realizing how much I have accomplished in these 10 years since receiving my appointment, I do not regret that decision.
I started my Coast Guard journey by attending Marion Military Institute, as part of the Scholars Program. Upon receiving my appointment to CGA, I spent the next four years grinding at the Academy as a Management major & member of the men's basketball team. I served as team captain my senior season, and we were able to travel to Puerto Rico and have our game broadcasted on ESPN as part of the Annual Armed Forces Classic Games.
Upon receiving my commission in 2015, I reported as a Deck Watch Officer aboard USCGC HARRIET LANE. While onboard CGC HARRIET LANE, we conducted patrols in the Caribbean and Atlantic. Our missions were counter-drug, alien & migrant interdiction, ports & waterways security, and living marine resources enforcement.
My second tour was as Executive Officer of USCGC DONALD HORSLEY. My collateral duties included Lead Boarding Officer & Pursuit Mission Commander. During that time, I led four pursuits that resulted in seizures of over 2400 kgs of cocaine.
I am currently serving a staff tour in the Eleventh Coast Guard District Intelligence Branch. We provide intelligence support for Coast Guard assets operating in the Eastern Pacific theatre.
I am a loving son and brother. I enjoy playing and watching sports, working out, and building computers. I am always willing and able to answer any questions about your plans and how the Coast Guard Academy can help you achieve all your future goals.