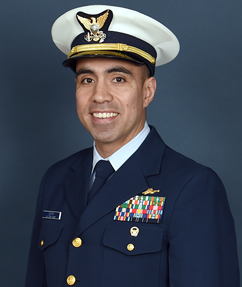 Hailing from Milford, California, I began my Coast Guard career by first attending one year of training at the Naval Academy Preparatory School and graduated from the Coast Guard Academy in 2006.
My service experience spans five afloat tours including command of a forward-deployed patrol boat in the Arabian Gulf. While in Bahrain, I experienced multiple, potentially incendiary encounters with Iranian warships, including one incident in which a Revolutionary Guard Corps Navy warship aggressively crossed my bow within 50 yards in an attempt to provoke a response.
As a key contributor to the national intelligence dialogue, I validated illicit smuggling theories by exploiting engagements with local dhows while simultaneously disrupting efforts to smuggle high-grade explosives, automatic weapons, and ammunition. I also served as a White House Social Aide, directly supporting the President of the United States and First Family.
I am currently completing my master's in public administration and certificate in public management at Roger Williams University.
When I'm out of uniform, I enjoy running, hanging out with friends, and volunteering in my local community.
Please feel free to reach out to me if you have any questions about the U.S. Coast Guard. I can be reached at David.A.Smith@uscg.mil.