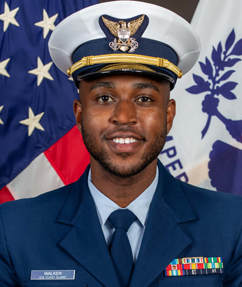 I graduated from the Academy in 2020 and am currently in flight school in Pensacola, Florida. When I was transitioning from high school to the Academy, I made it a priority to spend extra time with my loved ones and friends. I mentally prepared myself to meet new people from all around the country upon starting my cadet journey.
At the Academy, I was on the offshore sailing team my freshman year. For the remaining three years, I was on the water polo team. My most interesting experience was the Coastal Sail program. Getting to sail New England on a 44-foot yacht during my junior summer was an opportunity like no other. Every cadet will get to do this with their classmates!
I continue to be active as an officer in the Coast Guard and enjoy roller skating and Latin dance (Salsa, Bachata, Kizomba). I also enjoy volunteering in my community and staying in touch with my three siblings who are also part of the Coast Guard.
If you're interested in applying to the Academy, be prepared to network and make lasting relationships with classmates, faculty, and staff. Your network is your net worth, and CGA does an amazing job at setting you up for success. Even if you are an introvert, learn to approach people and start conversations. Meeting new people will help you in the long run. Prioritize academics, while making room for socialization and networking. If you want to learn more about the Academy and the Coast Guard, feel free to reach out to me.