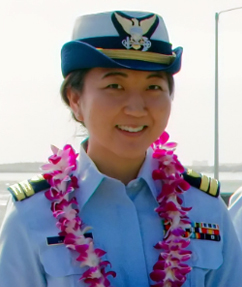 My Coast Guard journey started at Georgia Military College where I attended one-year preparatory school. Prior to prep school, I did not have any exposure to the military lifestyle. I am grateful I took the leap and accepted the offer; prep school helped me learn how to juggle all these new responsibilities (military obligation, academics, physical fitness) and live on my own for the first time after graduating high school!
I was on the Pistol Team for four years. After graduating from CGA. I was given the opportunity to train one year for the Olympic Trials in pistol shooting. During that time, I was able to train full time and travel to international/national competitions with my Team USA teammates. Representing the United States at the 2019 World University Games in Naples, Italy was one of the most memorable experiences of my life. After Olympic Trials, I reported to USCGC MIDGETT (WMSL 757) in Honolulu, HI as a deck watch officer. Currently, I am the Operations Officer at Sector San Francisco Vessel Traffic Service.
If you plan to attend the Coast Guard Academy, find a good support crew (friends, teachers, mentors). The people are what made the Academy worth it and extremely memorable. I am still very close to some of my classmates that I can call family! If you have any questions, don't hesitate to reach out.