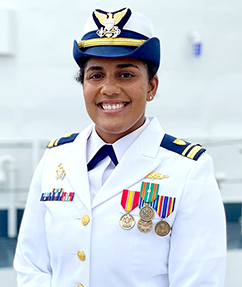 Born in New York and raised in Baltimore, Maryland, I attended a small "all girls" high school, where I ran indoor and outdoor track and was a member of the orchestra. I applied to the Academy because the humanitarian mission of the service resonated with me.
The Academy introduced me to rugby and I was part of the first team to make it to the Division II Final Four. I was also part of the first group of cadets to travel to the Kingdom of Bahrain for summer training.
I never travelled outside of the country before attending the Academy. International travel is now one of my favorite activities having travelled to Bermuda, Puerto Rico, the Dominican Republic, St. Maarten, Curacao, Cuba, Mexico, Panama, and Bahrain for work. I have also travelled to Ireland and the Netherlands during my free time.
During my time on cutter VALIANT, my first post-Academy duty station, we interdicted and seized illegal narcotics worth approximately $300 million and rescued 21 people from unseaworthy vessels. I am currently at my second duty station, and serve as the Commanding Officer of cutter IBIS in Fort Pierce, Florida.
I enjoy membership in local rugby clubs and travel as often as I can. I have also recently taken up surfing.
If you have questions about the Coast Guard Academy and what life is like in the Coast Guard, feel free to contact me at 772-475-7482 or send me an email.