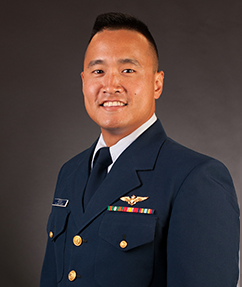 "Aloha! I am Kody Kekoa, a Hawaiian-Japanese-Filipino officer from Hawaii. My Coast Guard journey started far inland – Roswell, NM – where I attended a one-year preparatory school sponsored by the Coast Guard Academy. From there, I worked at my full capacity for the next four years at the Academy, and graduated with a Bachelor of Science degree in Operations Research and Computer Analysis in 2015.
I have served on the CG Cutter (CGC) DOUGLAS MUNRO (Kodiak, AK), and earned my flight wings at the Naval Flight School (Pensacola, FL/Corpus Christi, TX). I currently serve as a HC-144 "Casa" pilot at Air Station Cape Cod, MA. From these opportunities, I've had the experiences of conducting law enforcement inspections in the Bering Sea and search and rescue medical evacuations. I have seen many places and met awesome people along the way!
I am a firm believer in the potential that YOU can bring towards helping the Coast Guard workforce and effectiveness grow. Your culture, experiences, values, and the work ethic are valuable and the service can benefit from them.
I am a loving son and brother. My younger sister, Kiana, is a Commanding Officer of the CGC TERN out of San Francisco, CA. I enjoy playing and watching sports, exercising, and going to the beach. I am ready to take your call or email in order to talk about your plans and how the Coast Guard might be part of your future as well.
E hahai I ke ala o ka hana pa'akikī – Pursue the path of challenging work"