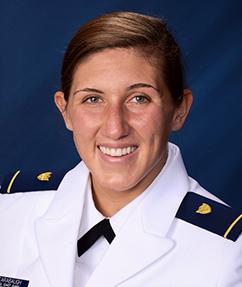 I tore my ACL two months before Reporting-In Day in 2016, so I was unable to start Swab Summer on time and was medically deferred for one year. I spent that year studying Biology at the Georgia Institute of Technology and working as a waitress. I knew I wanted to come to the Academy over a traditional college. I wanted to be somewhere where everyone was focused on a greater purpose of helping others.
Since being at the Academy, I have become much more aware of how each action impacts my ability or inability to lead others. Learning effective leadership is an ongoing challenge. It means taking responsibility for all aspects of your life, even those that may seem unrelated to your leadership role. All of the mistakes I've made along the way so far have helped me realize what areas of my life I need to take more control of.
I want to pursue Operations Afloat as my primary specialty with a subspecialty in International Relations. I want to work abroad as much as possible and hope to serve in Bahrain my second tour. Some of my career goals include receiving the Olmsted Scholarship and working at a foreign embassy. I hope to start a family along the way, too.
I've loved my time at the Academy so far, especially because of the chances I've had to grow. If you feel that the Academy might help you achieve your purpose and fulfill your potential, then don't hesitate to apply!