Last year's theme was "Forward Together: Valuing Truth and Identity in Service." Featured keynote speakers include Dr. Joy DeGruy and Dr. Stacey Dixon, Principal Deputy Director of National Intelligence.
Other events include junior and senior officer talk back sessions, Regimental Review, Cadet Talent Show, Speed Mentoring, and more.
Coast Guard and community members are invited to participate in all Eclipse events.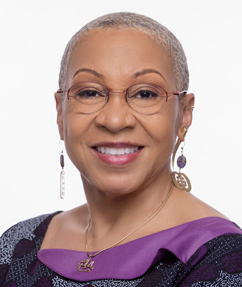 Dr. Joy Angela DeGruy holds a Bachelor of Science degree in Communication, a Master's degree in Social Work (MSW), a Master's degree in Clinical Psychology, and a PhD in Social Work Research. Dr. DeGruy is a nationally and internationally renowned researcher and educator. For over two decades, she served as an Assistant Professor at Portland State University's School of Social Work and now serves as President and Dr. DeGruy has published numerous refereed journal articles and many esteemed leaders have praised the book including Randall Robinson.
Published Works
Post Traumatic Slave Syndrome (PTSS): America's Legacy of Enduring Injury and Healing, (newly revised) which addresses the residual impacts of trauma on African Descendants in the Americas. This lays the groundwork for understanding how the past has influenced the present, and opens up the discussion of how we can eliminate non-productive attitudes, beliefs and adaptive behaviors and, build upon the strengths we have gained from the past to heal. PTSS Study Guide is designed to help individuals, groups, and organizations better understand the functional and dysfunctional attitudes and behaviors that have been transmitted to us through multiple generations. The Guide encourages and broadens the discussion and implications about the specific issues that were raised in the PTSS book and provides practical tools to help transform negative attitudes and behaviors into positive ones. African American Male Adolescent Respect Scale is an assessment instrument designed to broaden our understanding of the challenges facing these youth in an effort to prevent their overrepresentation in the justice system. In addition to her pioneering work in the explanatory theory and book, Dr. DeGruy has developed evidence-based models for working with children, youth, and adults of color and their communities.
Download Dr. Joy DeGruy's Bio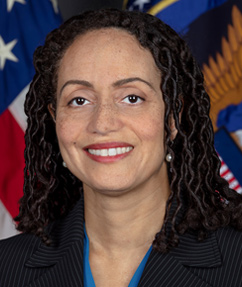 Dr. Stacey A. Dixon was sworn in as the Principal Deputy Director of National Intelligence (PDDNI) on Aug. 4, 2021. She currently serves as the sixth Senate-confirmed PDDNI. Possessing over 18 years of intelligence experience, Dr. Dixon has led the Intelligence Community at the highest ranks. Dr. Dixon joined ODNI after serving as the eighth Deputy Director of the National Geospatial-Intelligence Agency (NGA) from 2019-2021, where she assisted the Director both in leading the agency and managing the National System for Geospatial Intelligence.
From 2018 to 2019, she was the fourth Director of the Intelligence Advanced Research Projects Activity (IARPA), after serving as its Deputy Director from 2016 to 2018. Before joining IARPA, Dr. Dixon served as the Deputy Director of NGA's research directorate, where she oversaw geospatial intelligence research and development. She held additional leadership roles at NGA as the Chief of Committee on Intelligence. She first started her intelligence career at the Central Intelligence Agency (CIA) in 2003, where she was assigned to the National Reconnaissance Office's advanced systems and technology directorate.
An accomplished leader, Dr. Dixon holds both a doctorate and master's degree in mechanical engineering from the Georgia Institute of Technology and a bachelor's degree in mechanical engineering from Stanford University. She was also a chemical engineer postdoctoral fellow at the University of Minnesota. Dr. Dixon serves as a presidentially nominated member of the Board of Visitors to the U.S. Coast Guard Academy and is ODNI's liaison to Spelman College's Center for Excellence for Minority Women in STEM. Dr. Dixon is a native of the District of Columbia, where she currently resides. Congressional and Intergovernmental Affairs and Deputy Director of the Corporate Communications Office.
Prior to serving at NGA, Dr. Dixon was a staff member for the House Permanent Select.
Download Dr. Stacey Dixon's Bio