LCDR Christine Torres Igisomar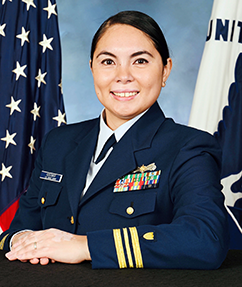 A native Chamorro, I was born and raised on the island of Saipan, part of the U.S. Commonwealth of the Northern Mariana Islands, a U.S. territory in the Pacific. I enlisted in the Coast Guard right after high school in 2002, and served for one year onboard a large Coast Guard cutter in Seattle. I was then selected to attend the Naval Academy Preparatory School in Newport, Rhode Island, then entered the Coast Guard Academy one year later. I graduated in 2008 with a B.S. in Government.
Since then, I've served on a Coast Guard cutter in Hawaii; a tour in international affairs in the Caribbean; and two tours in response operations in Corpus Christi, Texas, and Long Beach, California. I've had the good fortune of having the Coast Guard fund two master's degrees as well.
I currently am in the job of a lifetime – military aide to the Commandant of the Coast Guard, which is a two-year job that concludes in 2022. Serving the Coast Guard by serving its highest-ranking leader is a true honor, and I learn so much daily. For someone who graduated in the middle of their Academy class, I didn't do so bad!
For those of you that do enter the Academy, it's going to feel like everyone around you was their class valedictorian, was a sports team captain, was class president, etc. It can be intimidating. But if "you do you" and focus on your success, you can take the Coast Guard as far as you want it to go.
You can text me at 757-685-5968 or send me an email at Christine.T.Igisomar@gmail.com to learn more about the Academy and the Coast Guard.