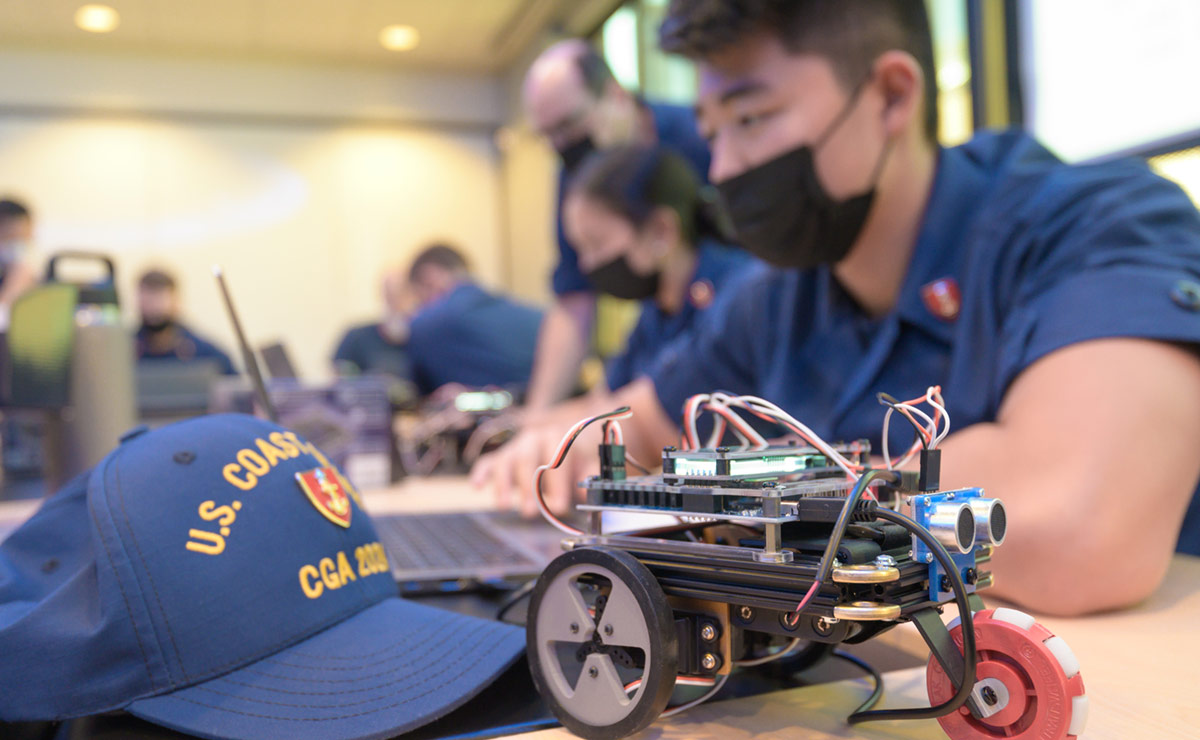 Cyber Systems majors acquire a strong technical computing foundation with a balanced managerial cyber emphasis further enhanced by interdisciplinary studies in order to meet the cyber needs of the Coast Guard and the United States. Cyber Systems majors focus on developing and applying cutting-edge cyber technologies in the operational domain in order to:
Conduct and enable Coast Guard missions
Defend Coast Guard and governmental cyber systems
Protect critical national infrastructure from cyber attacks
Manage information technology for the Coast Guard
Design, develop and support software and secure computer networks
National Security Agency and Department of Homeland Security
The program of study for the Bachelor of Science degree in Cyber Systems is designed around criteria defined by the National Security Agency and the Department of Homeland Security for designation as a Center of Academic Excellence in Cyber Defense Education (NSA/DHS CAE CDE). The Academy has been assigned to Cycle 11 with an anticipated designation during the summer of 2023.
Cyber Systems Accreditation
The Cyber Systems major was offered for the first time to the Academy class matriculating in 2018. Now that these officers have graduated in 2022, the Academy has sought accreditation from ABET, the premier U.S. computing accreditation agency, under the Cybersecurity criteria, with the visit scheduled for the fall of 2022 and a decision announced in the summer of 2023. Once earned, accreditation is awarded retroactively to graduates.
Cyber Systems majors work with state-of-the-art computing hardware and software in top-of-the-line facilities with tremendous learning opportunities that include:
State of the art cyber lab and active learning classroom (2018)
Independent research and development enclave with dedicated servers and Internet access that allows for learning and research in such areas as:

Reverse engineering
Malware analysis
Network attack and defense
Industrial control systems

Capstone projects in cyber security, cyber-physical systems, cyber risk management, geo-spatial intelligence, space, secure software development, and computer and network security
Partnership with the Coast Guard Research and Development Center, located in New London, Connecticut
Cadets have the following additional opportunities to develop cyber skills.
Interdisciplinary Capstone Research experiences often jointly supported by Engineering, Computing, Science, Math, Humanities, Management, or Professional faculty, Coast Guard units, the Department of Homeland Security, and other government entities
Incredible 1/c (senior) summer internships at locations such as the Coast Guard Cyber Command (CGCYBER), U.S. Cyber Command (USCYBER), the National Security Agency (NSA), federally funded national labs (ex: MIT Lincoln Labs or Idaho National Labs), or commercial organizations, most requiring a security clearance
Cyber Team – a competition-based club focused on all aspects of cyber security, open to all cadets
Cyber Range – Mandatory junior summer experience for all cadets, to learn the key concepts and principles of cybersecurity
Median salary for a Cybersecurity Analyst
Average salary of a CISSP
Cybersecurity-related Job Openings in the USA
Projected job growth for Information Security Analysts from 2020 to 2030
School of Engineering and Cyber Systems
Program Chair
Paul.B.Crilly@uscga.edu
(860) 701-6184