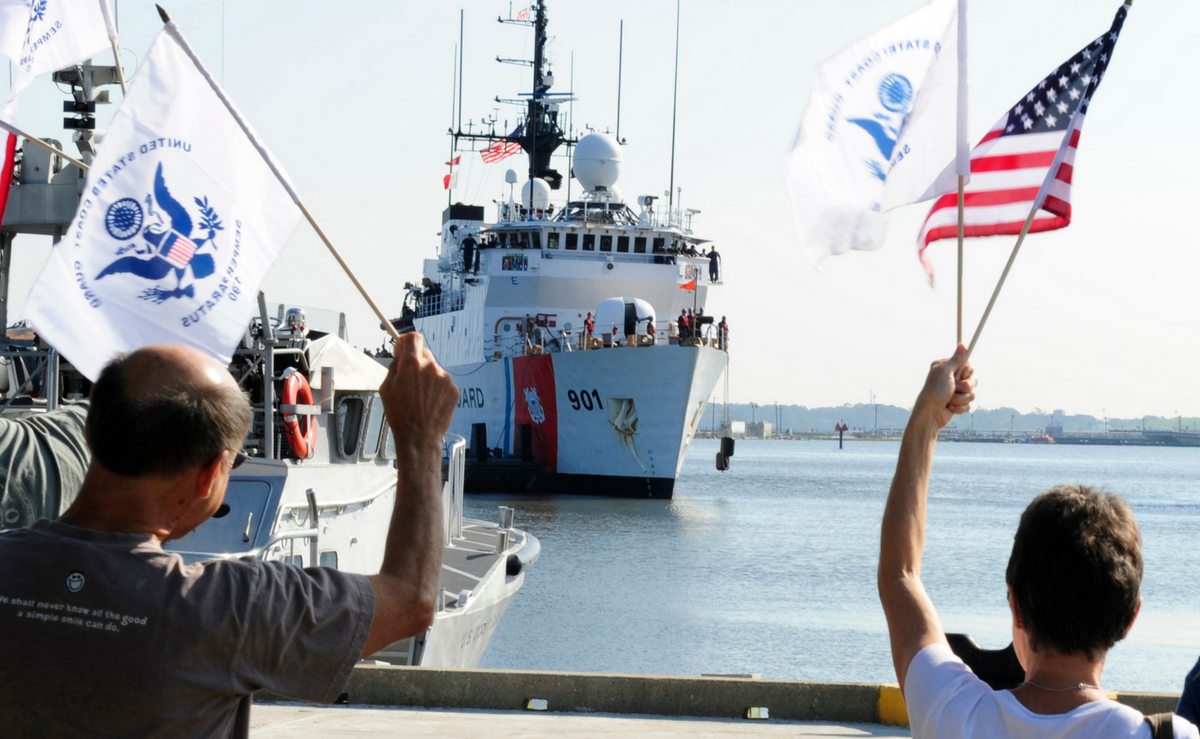 The Coast Guard lifestyle can be wonderful, filled with new experiences and exciting opportunities. And, as with any military commitment, balancing one's career and personal life comes with its own challenges as well.
Nearly all active duty officers are stationed in the United States. Although service members are subject to worldwide deployment, our day to day role is to protect American shores.
The Coast Guard life is not a typical military lifestyle. Unlike other military services, which operate large government housing tracts on military bases, most Coast Guard officers live in the local community. Social circles for officers usually include classmates, co-workers and their families, and friends from the community. Participation in local schools, churches, community activities and volunteer organizations are commonplace.
Officers are re-assigned every two to four years to a position of more responsibility. You'll normally move when reassigned, and moving is stressful and can disrupt family routine. Moving is also an opportunity to experience a new places, people, history and culture, greatly enriching your family's life.
Separation is part of a mobile lifestyle and may involve absences from home of varying durations:
Sea duty: The larger the ship, the longer the patrols. Coast Guard patrols range from one week to three months.
Temporary duty: A trip out of town for work of varying lengths.
Deployments: Strike teams, deployable assets, and some pilots deploy in times of emergency, or as part of scheduled operations.
Duty: Junior officers usually stand some type of overnight duty rotation at their units. Duty lasts for about 24 hours.
To make your transition as seamless and stress-free as possible, the Coast Guard offers a lot of support during family moves. Here are a few examples:
Sponsor Program: A fellow officer from your new unit is assigned by the Commanding Officer to help you and your family transition to area.
House-hunting leave: An extra week of leave once you have "orders" to a new assignment, in order to locate housing and check out your new area.
Relocation Services: Specialized staff coordinate transportation of your household goods, and provide guidance on housing, health care, child care and other areas of importance when moving.
Special Needs Program: Officers with identified special-need dependents are assigned to locations with needed services.
The Coast Guard and Family Life
Starting and raising a family is compatible with service in the Coast Guard. The experience is similar to that of most high-functioning dual career couples in the civilian workforce. Good problem solving, open communication and teamwork are important skills for adults balancing the normal commitments of job and family, as well as the unique challenges of military life. Tradeoffs should be expected along the way.
Together you'll address questions like:
When to start a family?
Which assignments to take?
What are our top priorities as a family?
How to manage family roles and set schedules
The Coast Guard recognizes that service readiness depends on family readiness. Therefore, the Coast Guard offers an exceptional range of programs, initiatives and services to support and strengthen families.
To learn more, check out the Coast Guard's family guide, Sea Legs.