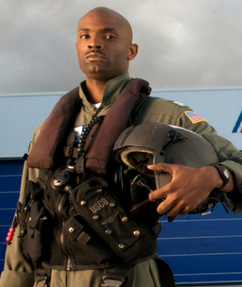 Hailing from Savannah, Georgia, I graduated from the Coast Guard Academy with a Bachelor of Science in operations research in 2000. I went on to graduate school at Syracuse University in 2011 earning a master's degree in business administration and an executive master's in public administration.
Additional career highlights include receiving the Wings of Gold in 2003 upon completion of naval flight training. During my first flight assignment, I supported search and rescue and law enforcement missions flying the MH-65 Dolphin in the Florida Strait and Caribbean. From there, I supported counter drug missions at Helicopter Interdiction Tactical Squadron Jacksonville, Florida. In 2012, I served as the Military Aide to the Commandant of the Coast Guard at Headquarters, until transferring to my current role as Aviation Operations Officer at Air Station Corpus Christi, Texas.
I was fortunate to be detailed during Hurricane Katrina where my crew and I saved 20 lives. During my Coast Guard career I've seized over 11,000 pounds of illegal narcotics and completed over 2,300 flight hours.
Out of uniform, I'm a devoted husband and father. I enjoy exercising, watching sports, playing golf and playing with my kids!
Please feel free to reach out to me via email at Marcus.A.Canady@uscg.mil if you would like to talk about the Academy or serving in the Coast Guard; I'd love to hear from you!