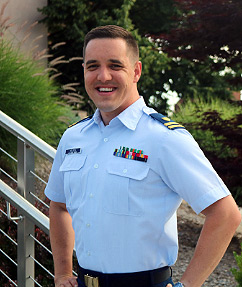 Thank you for your interest in learning more about the many opportunities that the world's premier maritime service academy has to offer. I have been fortunate to serve at the U.S. Coast Guard Academy for the last four years as an Admissions Officer and look forward to supporting you during the application process.
Originally from south Florida, I graduated from the United States Coast Guard Academy in 2013 with a B.S. in Management. My cadet summer training experiences were unforgettable and provided me invaluable development opportunities throughout my time at the CGA. My summer assignments included going underway on a 210' Cutter patrolling the Caribbean, sailing on the 295' USCGC EAGLE, and going underway on the CGC SYCAMORE, a 225' buoy tender based in Cordova, AK.
Upon graduation, I served my first tour as an Underway Deck Watch Officer, Communications Officer, & Assistant Navigator aboard USCGC HARRIET LANE based in Portsmouth, VA. I was responsible for the safe navigation of the ship, I conducted search and rescue missions, and I participated in joint inter-agency task force law enforcement operations along East Coast, the Caribbean, and South America.
My next assignment was at USCG Sector Long Island Sound based in New Haven, CT. I served in the Command Center as a Command Duty Officer. I directed a 24/7 watch team in coordinating and executing search and rescue, law enforcement, marine environmental response, and marine safety operations for 13 units across a 23K sq. mi area. I also served as liaison with federal, state, and local government agencies to conduct interagency trainings and bolster partnerships, including close coordination with the Civil Air Patrol. I then had the opportunity to serve as the Chief of Emergency Management & Readiness at Sector Long Island Sound where I was responsible for developing and maintaining all hazard response and contingency plans.
I'm driven by a passion to develop the next generation of the Coast Guard workforce.
Go Bears!