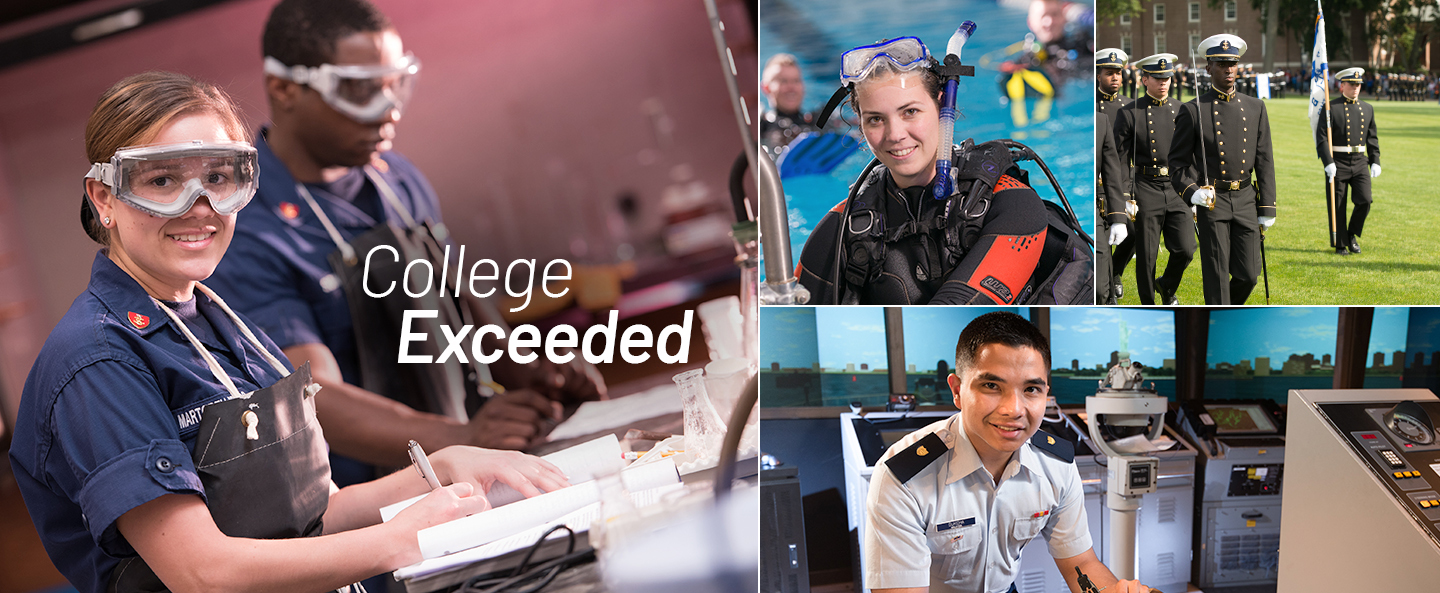 Apply to the Coast Guard Academy
Do you possess the qualities of mind, body and character to succeed at the Academy and as a Coast Guard officer? If so, we invite you to apply to the Coast Guard Academy. Applying to the Academy is free and must be done online; there is no paper application.
The Coast Guard Academy is ranked among the nation's elite undergraduate colleges. This is reflected in our highly selective admission process. So what distinguishes those who are accepted to the U.S. Coast Guard Academy?
Proven academic accomplishment, particularly in math and the sciences
Leadership skills
An unwavering desire to serve the country and humanity
Physical fitness and athleticism
Well-rounded interests and experiences
Commitment to achieve one's full potential
Application – Availability and Deadline
The application consists of:
Online Application
Standardized Test Scores – optional
Medical Examination
Physical Fitness Examination
Interview – when requested by Admissions
Before you start your application, have a few things handy:
Your Bear's Den login credentials
The names, email and phone numbers of teachers who will submit your recommendations
The name, email and phone number of the adult who will submit your Physical Fitness Exam results
The names of the colleges your parents and siblings have attended (if any)
The Department of Defense Medical Examination Review Board (DODMERB) and its contractor coordinate your medical examination to determine if you meet medical qualifications for admission.
Watch for a letter or email after you submit your application. Follow these instructions to schedule your exam and track results.
If the exam is not done by April 15, or your qualifications are still uncertain by May 1, you will not be eligible for further consideration.
Physical Fitness Exam (PFE)
You are responsible to arrange for the PFE. Find an adult to administer the PFE and submit your scores. The Academy will email instructions to this person after you submit your online application.
Applicants to the Coast Guard Academy must complete the PFE; the Candidate Fitness Assessment (CFA) cannot be substituted for this required application item.
Admissions may request to interview you in order to learn more about your preparation, goals, and interests. If so, a representative of Admissions will contact you. If selected for an interview, participation is required.
The Academy's Early Action review group is non-binding. All applicants appointed in this group will still have until May 1st to accept or decline.
High school seniors and active duty military members are eligible for Early Action. Those attending college or a post-grad year are not unless they are first-time applicants.
Keep these important dates in mind as you complete your application:
July 15 – Admission application opens
October 15 – Early Action deadline
By December 23 – Early Action decisions released
January 15 – Regular Admission online application deadline
January 29 – Deadline for Regular Admissions forms and scores
By April 1 – Regular Admission decisions released
April 15 – Medical Examination deadline
May 1 – Appointment acceptance deadline
May 15 – Medical Exam qualification/waiver deadline
June 1 – Enrollment paperwork due
Last Monday in June – Swab Summer starts
Processing Section Chief
860-701-6753
Bradley.J.Nelson@uscga.edu
Application/PFE Questions
860-444-8502
Bradley.J.Beckwith@uscga.edu
DoDMERB/Medical Questions
860-701-6775
Shannon.E.Castineira@uscga.edu