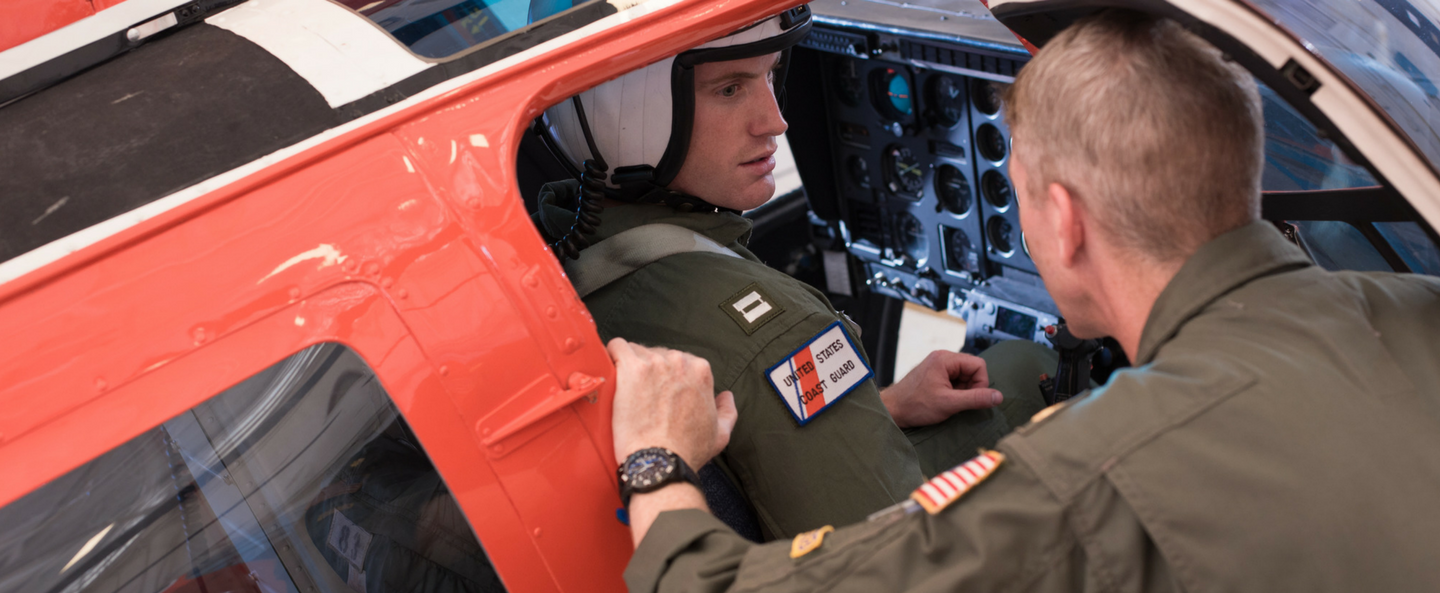 Coast Guard aviators fly in the most challenging environmental conditions, often when others cannot. Our pilots and flight crews are renowned worldwide for saving those in peril.
Coast Guard pilots are also critical players safeguarding our nation by disrupting drug trafficking, illegal migration and terror. Aviators and their crews work together with other Coast Guard units, federal, state and local agencies to carry out every mission performed by the Coast Guard, and to support other governmental agencies. The U.S. Coast Guard has more than 800 qualified pilots.
As a cadet, you have the opportunity to explore Coast Guard aviation before it's time to apply to flight school:
Participate in Aviation Career Week. Active duty aircrews land at the Academy or nearby Groton Municipal Airport and meet with cadets.
Join the Aviation Club and train on the simulator.
Earn your pilots license in your spare time.
Join the Flight Team and practice or compete to hone your skills.
Selection for Flight School
Currently, up to ten percent (approximately 20 cadets) of the graduating class may attend flight training immediately upon graduating from the Academy. Even more go to flight school within three years.
Performance and qualification determine who is selected for flight school:
Grades and military performance at the Academy
Score on the Flight Aptitude Test taken as a First Class Cadet
Results of the flight physical exam taken before graduation
Aviators of all U.S. sea-going services train at Naval Air Station (NAS) Pensacola, Florida, in fixed and rotary wing trainers, and land-based simulators.
On completion of basic flight training, you will report to Coast Guard Aviation Training Center (ATC) Mobile, Alabama, and learn to fly a Coast Guard aircraft.
On completion of training in Mobile you are designated as a Co-Pilot and are ready to report to your first Air Station. Besides having earned your wings, you will receive your Aviator Number and join a distinguished line of aviation pioneers and heroes, which started with CDR Elmer Stone, Aviator Number 1, in 1920.
Aviators are assigned to Coast Guard Air Stations and may fly multiple aircraft types during their career. Helicopter aircrews may deploy to Coast Guard cutters equipped with a flight deck for part or all of a patrol, depending on the mission.
Assignments to graduate school and aviation program management, logistics centers and training centers are part of the process of developing a broadened specialty in aviation.
Coast Guard Aviation Facilities
Coast Guard aviation facilities are all located in the United States and its territories.