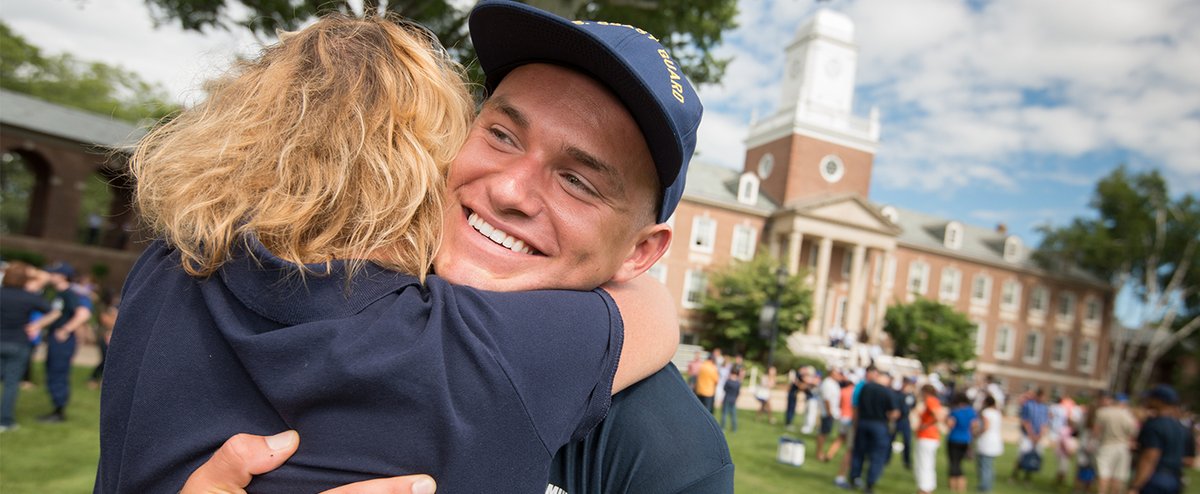 Parents and Mentors: Come Experience College Exceeded
Congratulations on your student's interest in the United States Coast Guard Academy. Ours is an elite education that outshines other schools with a proud mission—to develop officer-ready leaders of character. With a commitment to excellence and service above self, our graduates embark on meaningful careers as Coast Guard officers serving their country and humanity. To be a candidate for such a noble and high-value educational experience is extraordinary.
Ranked among the nation's most prestigious and selective institutions of higher learning, the Coast Guard Academy presents an unrivaled opportunity to attend an elite professional college that charges no tuition and guarantees a challenging and rewarding career upon graduation.
An academic program that transcends all others—ranked among the nation's best
Holistic education emphasizing leadership, physical fitness, and professional development
Graduates who go directly to positions of leadership
The only American military service dedicated to humanitarian missions
The U.S. Coast Guard Academy offers rigorous programs of study in nine major academic fields. Cadets study in small classes where they are able to form close mentoring relationships with a highly distinguished and very accessible faculty.
Our world-class advising program provides an individual development plan for each cadet to help them outpace the competition. From deciding on a major, to pursuing leadership options, to selecting a career path, advisors help guide and mentor cadets in meeting their academic and professional goals.
In support of the Academy and its cadets, parents and families are encouraged to participate in a variety of on- and off-campus events throughout the year.
At the Coast Guard Academy there is no cost for tuition, room, or board. In fact, our cadets are paid a stipend and most graduate with savings, not debt. Imagine, graduating from college, stepping into a career as a United States Coast Guard officer, and doing so with zero debt. That's college exceeded.
Campus, Facilities and Region
Overlooking the Thames River, our picturesque campus offers the idyllic New England college setting. The surrounding region, with its rich maritime heritage, provides abundant activities and entertainment.
The Coast Guard Academy is dedicated to maintaining a safe campus environment. We hold firmly to the standards of the Clery Act—by implementing effective safety measures and resources, and by creating a transparent culture regarding campus safety.
The CGA Parents Association is a volunteer organization whose sole purpose is to support the Academy and its cadets. The Parents Association provides needed information, resources, and an important sense of community for the parents and families of cadets.
Understanding diverse cultures and perspectives is vital in the service of a diverse nation and world. To that end, the Coast Guard Academy is more diverse today than ever before—34% are minority cadets, and 39% are women!
UNITED STATES COAST GUARD ACADEMY
cadets enrolled at the Academy
job placement. Graduates are obligated to serve for five years and 85% stay longer!
of active duty graduates go on to grad school (paid for by the Coast Guard).