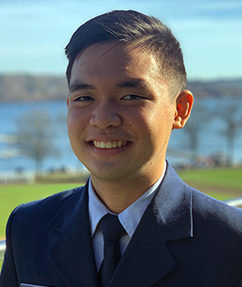 By November, I began to really feel the rigors of academics. I started longing for a break and it came with my first ever leave in my cadet career, Thanksgiving leave. I spent my first Thanksgiving at my sponsor family's house. We ate a lovely meal and watched movies in Mystic where we ran into a celebrity! After enjoying that much needed break I looked back and reflected on how much of an impact my sponsor family has had on me. I really feel at home with them and consider them to be my extended family. I cannot begin to imagine how much harder of a time I would have had adjusting to life here were it not for their support and encouragement, and for them opening up their house and family to me and my sponsor brothers. I truly believe that it is crucial to the success of cadets that live far from the Academy to get that support that the Sponsor Family Program offers. It is good to have a place outside Chase Hall where you can relax and take care of yourself more. It is also beneficial to international cadets in particular because we get to experience the culture and see what the daily life of an American family is like.
My sponsor family brought me to see all the movies I missed, helped me get a phone, joined me shopping for school supplies, got me in touch with my parents, delivered my letters to them for me, and of course gave me lots of snacks. I was able to survive Swab Summer largely because of their help. Homesickness, the biggest threat to the morale of an international cadet, was barely an issue for me. To this day, my sponsor family continues to accompany me on my cadet journey, through the highs and lows.
I highly encourage international cadets and anyone else far from home to consider getting a sponsor family. The bonds you form with them will be one you carry beyond your cadet career.