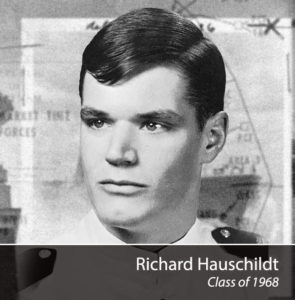 Richard Hauschildt '68 was awarded the Distinguished Flying Cross for extraordinary achievement in aerial flight.
A citation that accompanied the award describes a highly unusual case in which Hauschildt flew an HH-52A helicopter to the rescue of two power plant workers whose working platform had become wedged hundreds of feet inside of a 650-foot smokestack in Portage, Wisconsin after its raising mechanism failed.
Despite low ceilings and marginal visibility, Hauschildt flew two other workers, a steel cage, hundreds of feet of cable and other equipment to a catwalk 15-feet below the lip of the smokestack. As the weather onsite steadily grew worse, he made a slow vertical ascent and despite losing sight of the stack he eventually hoisted both men out of the smokestack inside the protective steel cage.