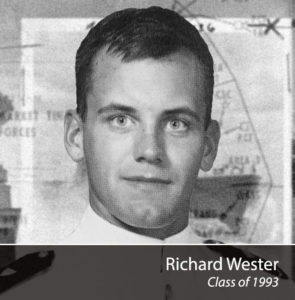 Richard Wester '93 was awarded the Meritorious Service Medal for rescuing Haitian migrants while serving as a Boarding Officer aboard the Coast Guard Cutter Escape in 1994.
A citation that accompanied his award describes the crew of Escape interdicting a severely overloaded vessel. As the crew prepared to transfer the migrants to the Coast Guard Cutter, the Haitian vessel capsized throwing 26 people into the sea.
As Wester pulled one woman to safety, he began throwing life jackets to the others who were struggling to stay afloat. The citation reads, "seeing an infant that had drifted from its mother and had slipped below the surface Ensign Wester, in complete disregard for his own safety and completely outfitted in law enforcement gear, dove from the small boat, brought the baby to the surface" where it was lifted to safety. He was also able to pull three more migrants aboard who were clinging to the ship.