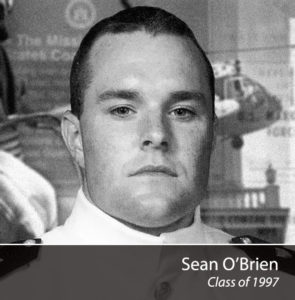 Sean O'Brien was awarded two Air Medals in 2005 for meritorious achievement in aerial flight while serving as a helicopter pilot at Coast Guard Air Station Houston.
He received the first award for his actions during the rescue of the master of a fishing vessel whose arm was caught and crushed in a winch while fishing off the coast of Galveston, Texas in February.
According to an award citation, after flying in near zero-visibility and avoiding the fishing vessel's 60-foot mast and scaffolding, the helicopter suddenly experienced a hoist mechanism failure. O'Brien guided his crew to quickly regain use of the critical system, enabling the rescue swimmer to safely deploy to the vessel.
Once the master was freed from the winch, O'Brien then coached his crew through a difficult hoist and delivered the injured man to emergency medical care, with his aircraft dangerously low on fuel.
Six months later, he was part of the massive Coast Guard response to Hurricane Katrina. According to a citation that accompanied his second Air Medal that same year, during one particularly dramatic flight, O'Brien used night vision goggles to fly in near total darkness. Hovering his aircraft above the unlit roof of a semi-submerged house he and his crew rescued an elderly couple as smoke and fumes from nearby fires filled the helicopter's cockpit.
Over the course of more than 30 hours of flight time during the Katrina response, O'Brien was instrumental in the rescue of more than 200 victims according to the Coast Guard.