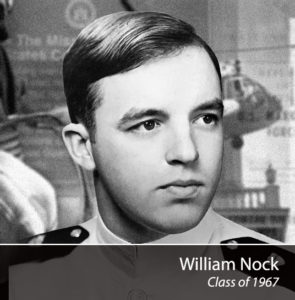 William Nock '67 was awarded the Bronze Star for meritorious service during the Vietnam War.
During the war 82-foot Coast Guard patrol boats and their crews served with the U.S. Navy with the mission of stopping the movement of arms and supplies from the South China Sea into South Vietnam.
A citation that accompanied his award describes Nock and the crew CGC Point Mast which he commanded, "conducting aggressive combat patrols in the coastal waters of Vietnam. In a ten-month period, he directed fifty-four naval gunfire support missions which captured enemy troops and supplies and severely damaged known enemy encampments."
Nock also worked to transfer the Point Mast to South Vietnamese forces as part of a policy that expanded, equipped, and trained them to take on an increasing combat role as U.S. troops were reduced in the region.