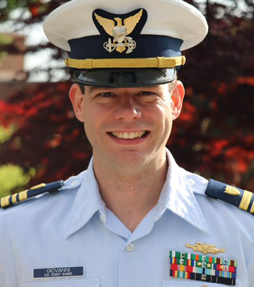 Hello, I am LCDR John Giovanni, and I serve as the Admissions Officer Branch Chief. I appreciate you looking into the Coast Guard Academy and look forward to working with you as you learn about the Coast Guard.
I am from Collegeville, Pennsylvania, a small suburb outside of Philadelphia. I was admitted to the Coast Guard Academy in 2009. I graduated in 2013 with a B.S. in Marine Environmental Sciences with a focus in Biology and Chemistry. My extracurricular activities included being a member of the pistol team and serving as part of the Cadet Honor Board my senior year.
After graduation, I served as a Deck Watch Officer onboard the CGC MOHAWK, stationed out of Key West, FL. We completed numerous patrols throughout the Caribbean performing the counter narcotic and interdiction operations. My next tour was on the CGC STRATTON, in Alameda CA, at the time one of the newest additions to the Coast Guard's fleet, specializing in major deployments to the Eastern Pacific performing counter narcotic patrols. After a successful tour on the West Coast, I returned East to serve on the CGC NORTHLAND, a medium endurance cutter out of Portsmouth, VA. I was the Operations Officer onboard and oversaw planning and coordinating all the Cutter's patrols and missions. Once again, the Cutter spent most of its time in the Caribbean and Eastern Pacific. My last afloat tour was upon leaving NORTHLAND, I had the opportunity to serve as the Commanding Officer of the CGC WILLIAM FLORES, a Fast Response Cutter out of Miami, FL. I led the 154' Cutter and a 24-person crew as we patrolled the Florida Straits and Caribbean.
Finally, my last tour before getting the call to return to the Academy was at United States Southern Command in Miami, FL. This unique job worked directly with all the Department of Defense services in addition to the Coast Guard and traveled to Caribbean Partner nations to aid them in maintaining their small vessel fleets.
This has all been possible with the support of my spouse, Hannah, our child, Eileen, and our two cats. I am excited to have the opportunity to work with you and provide guidance through the application process, or general questions about the Coast Guard and the Academy.